#IAmScience Shawn Dey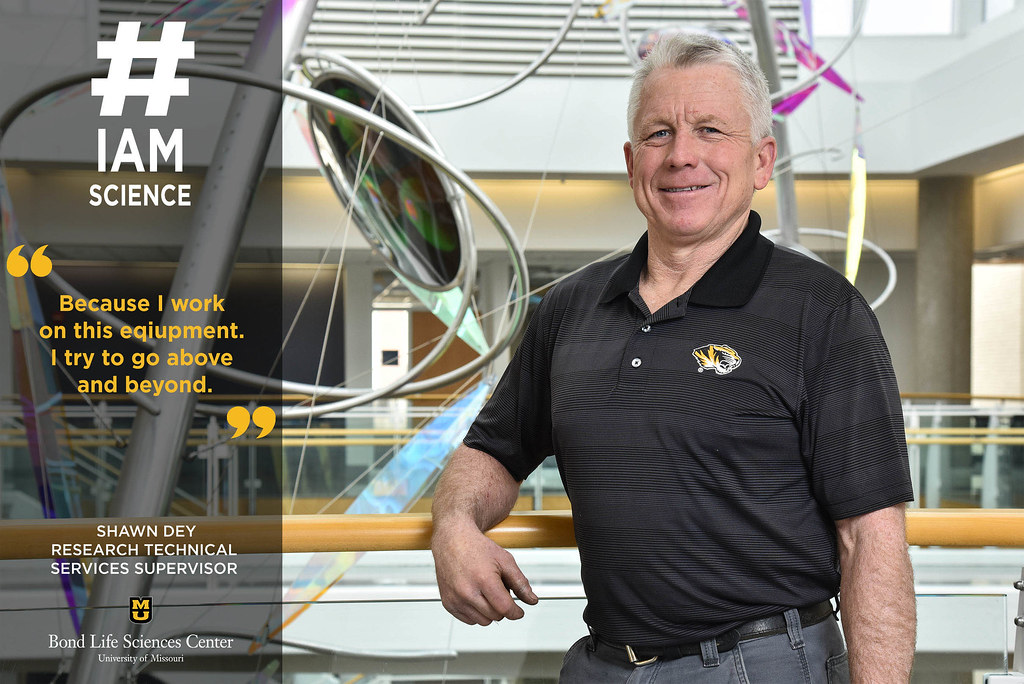 By Lauren Hines | Bond LSC
Anywhere from small "mixers" to large plexiglass casings cover the tables in the back of the facilities building. Shawn Dey, research technical services supervisor, can usually be found there either messing with the wires of a small motor, trying to find an adhesive that keeps plexiglass together or responding to an equipment failure emergency.
For the past 20 years, Dey has lived in Millersburg, but he
was born and raised in Columbia. With a 13-week old daughter, another at home
and seven other kids, Dey has a lot on his plate.
"It's like the Brady Bunch, but in the 21st century," Dey
said.
However, Dey knows what it's like to run a large operation.
He owns two businesses, two rentals and an Airbnb. One of his businesses,
Installers Unlimited, helps their customers install and repair different sorts
of equipment and other types of materials. Dey took over Installers Unlimited
in 1989, so he's been his own boss for a while, but decided to join Bond LSC in February 2019 after
touring the building twice and taking a month to decide.
"It's
a major transition because Installers Unlimited still runs full time," Dey
said. "It's been a little bit hard to be bound here but being here isn't bad. It's
just not being out there that's hard."
Energetic, a little scattered and with a big smile, Dey is
pulled every which way during his workdays.
"[Working
at Bond LSC] definitely adds to my portfolio," Dey said. "Sometimes it's semi
laid-back. Sometimes it's very demanding."
When Dey first
arrived, there was a staff of five. Now there's three. With a full list of
duties on his desk, he says they "stay more than busy in house."
Dey and his team
repair all the research equipment in the building and conduct alterations to
the labs themselves.
"As
much as I don't do the research in the laboratories, we have to know what the
equipment does and what each piece does, especially when they come down here
for repair," Dey said. "We have to know what we're looking for."
The gives the facilities
building that Dey works out of a large role in each researcher's work.
"If
they didn't have Marcus, Danny or I they would be out thousands, tens of
thousands of dollars in purchasing new equipment or trying to get service
people from whoever produces that piece of equipment, and it's very hard to get
them here," Dey said.
When
equipment breaks or stops working, research that already takes time to complete
will have to be stalled or even stopped completely.
"We
just had an auto-injector go down, and they just had to put a halt to
everything they were doing," Dey said. "There wasn't another one in the
building. There's not one somewhere he can just go to get. They had to go to
another building to get one."
With a year under
his belt, Dey isn't planning on going anywhere anytime soon.
"I work on this equipment," Dey said. "I try to go above and beyond."