Science Café Columbia
Talks start at 6 p.m. at Broadway Brewery as part of Bond LSC's Building Bonds Initiative.
Fall 2019 Speakers
Monday, October 14 | 6 p.m. | Broadway Brewery
Anand Chandrasekhar
Professor of Biological Sciences and Bond LSC Primary Investigator
Fish Faces: How Zebrafish Help Us Understand Neural Circuits
We make fish faces by controlling muscles in the face and jaw, but fish use these same muscles to eat. Chandrasekhar will discuss his studies on the neural circuits controlling these muscles in zebrafish, and also present a recent research on how zebrafish and suckling mice digest proteins.
Monday, November 11 | 6 p.m. | Broadway Brewery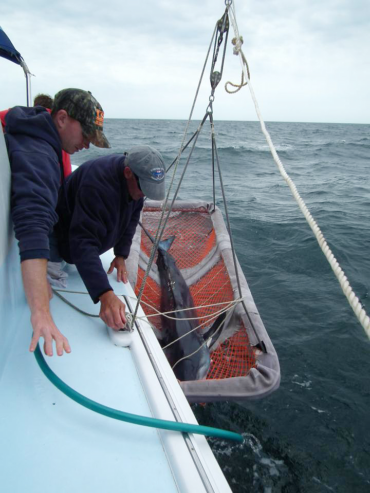 Michael Byrne
Assistant Professor of Wildlife Ecology, School of Natural Resources
University of Missouri
Tracking mako sharks
Advances in satellite tracking technology have provided scientists with the means to gain new insights in the lives and behaviors of ocean-going animals that would otherwise be "out of sight." One such animal is the shortfin mako shark, a highly migratory species capable of traversing miles upon miles of open ocean. This talk will focus on new insights gained into the ecology and movements of mako sharks from satellite tracking studies, as well as touch on the considerable conservation issues the species is currently facing.
December 9, 6 p.m.
Speaker: TBD
When and Where
Second Monday of each month at 6 p.m.
Broadway Brewery

For ADA accommodations, contact Karla Carter at 573-882-7957 or carterka@missouri.edu.
About
A "science café" is an informal gathering where scientists share their research or expertise with the community in a dynamic, interactive format. There is no powerpoint, but there is plenty of conversation, Q&A, and sometimes show-and-tell.
Science Café Columbia is held at 6 pm on the second Monday of the month during MU's fall and spring semesters at Broadway Brewery, 816 E Broadway in Columbia, Missouri.  Past topics have ranged from Neanderthals to autism, epidemics, volcanoes, Alzheimer's, and whether Pluto should be a planet.
All are welcome—and encouraged—to attend.