Seminal work
How unruly data led MU scientists to discover a new microbiome
By Roger Meissen | MU Bond Life Sciences Center
It's a strange place to call home, but seminal fluid offers the perfect environment for particular types of bacteria.
Researchers at MU's Bond Life Sciences Center recently identified new bacteria that thrive here.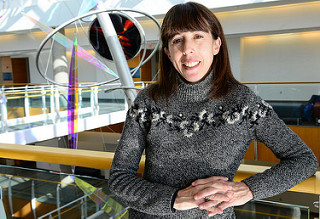 "It's a new microbiome that hasn't been looked at before," said Cheryl Rosenfeld, a Bond LSC investigator and corresponding author on the study. "Resident bacteria can help us or be harmful, but one we found called P. acnes is a very important from the standpoint of men. It can cause chronic prostatitis that results in prostate cancer. We're speculating that the seminal vesicles could be a reservoir for this bacteria and when it spreads it can cause disease."
Experiments published in Scientific Reports — a journal published by Nature — indicate these bacteria may start disease leading to prostate cancer in mice and could pass from father to offspring.

A place to call home
From the gut to the skin and everywhere in between, bacterial colonies can both help and hurt the animals or humans they live in.
Seminal fluid offers an attractive microbiome — a niche environment where specific bacteria flourish and impact their hosts. Not only is this component of semen chockfull of sugars that bacteria eat, it offers a warm, protected atmosphere.
"Imagine a pond where bacteria live — it's wet it's warm and there's food there — that's what this is, except it's inside your body," said Rosenfeld. "Depending on where they live, these bacteria can influence our cells, produce hormones that replicate our own hormones, but can also consume our sugars and metabolize them or even cause disease."
Rosenfeld's team wasn't trying to find the perfect vacation spot for a family of bacteria. They initially wanted to know what bacteria in seminal fluid might mean for offspring of the mice they studied.
"We were looking at the epigenetic effects — the impact the father has on the offspring's disease risk — but what we saw in the data led us to focus more on the effects this bacterium, P. acnes, has on the male itself," Rosenfeld said. "We were thinking more about effect on offspring and female reproduction — we weren't even considering the effect the bacteria that live in this fluid could have on the male — but this could be one of the more fascinating findings."
But, how do you figure out what might live in this unique ecosystem and whether it's harmful?
First, her team found a way to extract seminal fluid without contamination from potential bacteria in the urinary tract.
"We gowned up just like for surgery and we had to extract the fluid directly from the seminal vesicles to avoid contamination," said Angela Javurek, primary author on the study and recent MU graduate. "You only have a certain amount of time to collect the fluid because it hardens like glue."
Once they obtained these samples, they turned to a DNA approach, sequencing it using MU's DNA Core.
They compared it to bacteria in fecal samples of the same mice to see if bacteria in seminal fluid were unique. They also compared samples from normal mice and ones where estrogen receptor genes were removed.

The difference in the data
It sounds daunting to sort and compare millions of DNA sequences, right? But, the right approach can make all the difference.
"A lot of it looks pretty boring, but bioinformatics allow us to decipher large amounts of data that can otherwise be almost incomprehensible," said Scott Givan, the associate director of the Informatics Research Core Facility (IRCF) that specializes in complicated analysis of data. "Here we compared seminal fluid bacterial DNA samples to publicly available databases that come from other large experiments and found a few sequences that no one else has discovered or at least characterized, so we're in completely new territory."
The seminal microbiome continued to stand out when compared to mouse poop, revealing 593 unique bacteria.
One of the most important was P. acnes, a bacteria known to cause chronic prostatitis that can lead to prostate cancer in man and mouse. It was abundant in the seminal fluid, and even more so when estrogen receptor genes were present.
"We're essentially doing a lot of counting, especially across treatments to see if particular bacteria species are more common than others," said Bill Spollen, a lead bioinformatics analyst at the IRCF. "The premise is that the more abundant a species is, the more often we'll see its DNA sequence and we can start making some inferences to how it could be influencing its environment."
Although this discovery excites Rosenfeld, much is unknown about how this new microbiome might affect males and their offspring.
"We do have this bacteria that can affect the male mouse's health, that of his partner and his offspring," Rosenfeld said. "But we've been studying microbiology for a long time and we still find bacteria within our own bodies that nobody has seen before. That blows my mind."
The study, "Discovery of a Novel Seminal Fluid Microbiome and Influence of Estrogen Receptor Alpha Genetic Status," recently was published in Scientific Reports, a journal published by Nature.