Bond LSC offers ample research opportunities for undergrads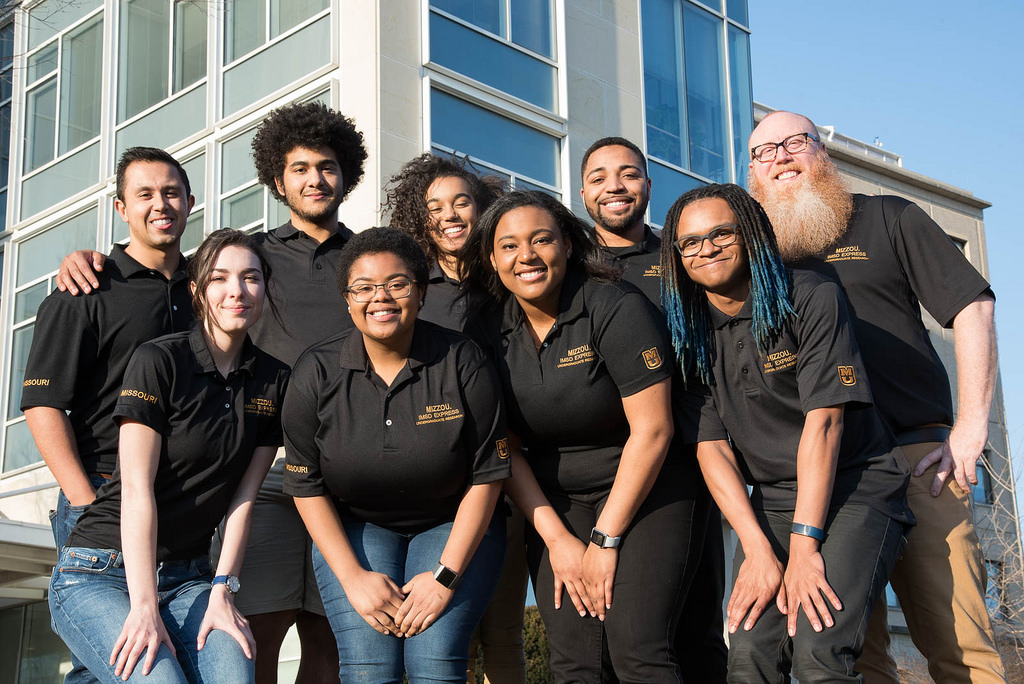 By Allison Scott | Bond LSC
Research at the undergraduate level offers more than meets the eye. With students from every year of their undergraduate careers working in Bond LSC, it's a great opportunity to acquire skills and experience.
Linda Blockus, head of the Undergraduate Research office in 150 Bond LSC, advises students to get started early and be proactive.
"I encourage students who are interested in research to talk to people and network," Blockus said. "Talk to your professors, advisors and other students to find out what is available. Then, pursue those opportunities."
It isn't all as intimidating as it might appear. Students have a number of resources available to find out more about research on campus.
"There's no one way to get involved," Blockus said. "Students can go directly through our website, undergradresearch.missouri.edu,  come to our office or go to their professors."
That's exactly what students involved in the Freshman Research in Plant Sciences (FRIPS) program have done. Sarah Unruh, a Ph.D. student who serves as a Graduate Student Coordinator for the program, boasts of the program's ability to guide research-minded students along their path at Bond LSC.
"They do 10 hours of research in lab," Unruh said. "We try to give them skills that are helpful moving forward, so things like finding papers and keeping up with a lab notebook."
Each of the students selected for the program works in a lab they find the most interesting, but the program assists with those relationships to help students adjust to the process.
"Students lead the way in which lab they go to," Unruh said. "They interview with different faculty, but we facilitate the match-making."
Those interactions and networking opportunities open doors down the line.
"I think what they get the most out of FRIPS is that they're actually doing science, so they get an idea of what it looks like," Unruh said. "They're making connections on a different level than just the classroom with teaching assistants and professors."
Jenna Bohler — one of the students involved in FRIPS this year — has benefited from its connection-facilitating.
"Paula McSteen, Norman Best and Jenn Brown have taught me so much this year in particular," Bohler said. "They've been great resources whenever I've had questions."
Bohler is about to finish her FRIPS experience and can attest to the program's influence on her first year at Mizzou.
"I knew coming into college I wanted to be involved in research, and FRIPS allowed me to get involved really early so I have four years instead of two or three," Bohler said.
And it's not only helpful in the lab.
"What I've learned from FRIPS has helped with my classes," Bohler said. "I learn things before I'm taught them in class, which makes them easier to understand."
Some FRIPS students have even extended their research opportunities beyond their freshman year.
"Students have used their time wisely in the lab and then gone on to do summer research programs," Unruh said.
For those who aren't freshman but find themselves interested in research, there are a number of programs available.
The Society of Undergraduate Researchers in Life Sciences (SURLS) is a group of undergraduate researchers who meet twice a month to explore the options they have within their field. It helps participants to network, meet people with similar interests and better understand a number of components of research.
Alec Wilken, a junior bioscience major who works in the Holliday lab in the medical school, served as the vice president and will be the president for his senior year. He's been part of SURLS since he was a freshman and has seen first-hand how it's shaped his path in the field of research.
"SURLS helped me find what I was interested in," Wilken said. "We have professors come in, and we visit labs, which helps undergraduates grasp how interesting research on campus really is."
SURLS provides students with the opportunity to grow throughout their undergraduate careers.
"I stayed in SURLS after joining my lab because it became a vehicle that helped me be better in my lab," Wilken said.
The organization's impact has allowed Wilken to uncover the path he wants his career to take, as he now plans to earn a Ph.D.
"I found a home in research, and SURLS helped me do that," Wilken said.
For those with plans to pursue a Ph.D. in their future, MU's Initiative for Maximizing Student Diversity (IMSD) is the perfect fit.
The grant is funded by the National Institutes of Health (NIH), but at Mizzou there's the addition of Express to the program's title. It stands for Exposure to Research for Science Students, which emphasizes the scientific aspect of the program.
Brian Booton, is the undergraduate director for IMSD-Express at Mizzou, acknowledges the prestige that goes along with being an IMSD scholar.
"It's a highly selective grant," Booton said. "There are only 49 programs in the country."
With stiff competition for the program at universities across the nation, it's important to focus on the students' experiences.
"The ways in which IMSD-Express helps students is more than just research," Booton said. "We try to expose students to the different pathways where further education can take them."
Part of that is through the way the weekly meetings breakdown.
"I break programing down into three areas: personal, academic and professional development," Booton said.
Doing so helps guide students in the right direction because it is set up to further their education by developing skills for success.
But it's not all lectures and typical meetings. IMSD-Express offers a peer mentorship program for underclassmen apprentices to be paired with upperclassmen fellows.
"Even if you have a professor you really admire, there's some distance there," Booton said. "Someone that's only two years older than you is more relatable; it's spending time with your future self."
The various research opportunities at Mizzou make it possible for students to supplement their classroom learning in a way unlike any other.
"It's part of your education," Blockus said. "Taking advantage of research is a great way to set yourself up for the future."
For more information and to apply for these opportunities, visit: