Hot topic research networking
Moving science forward through discussion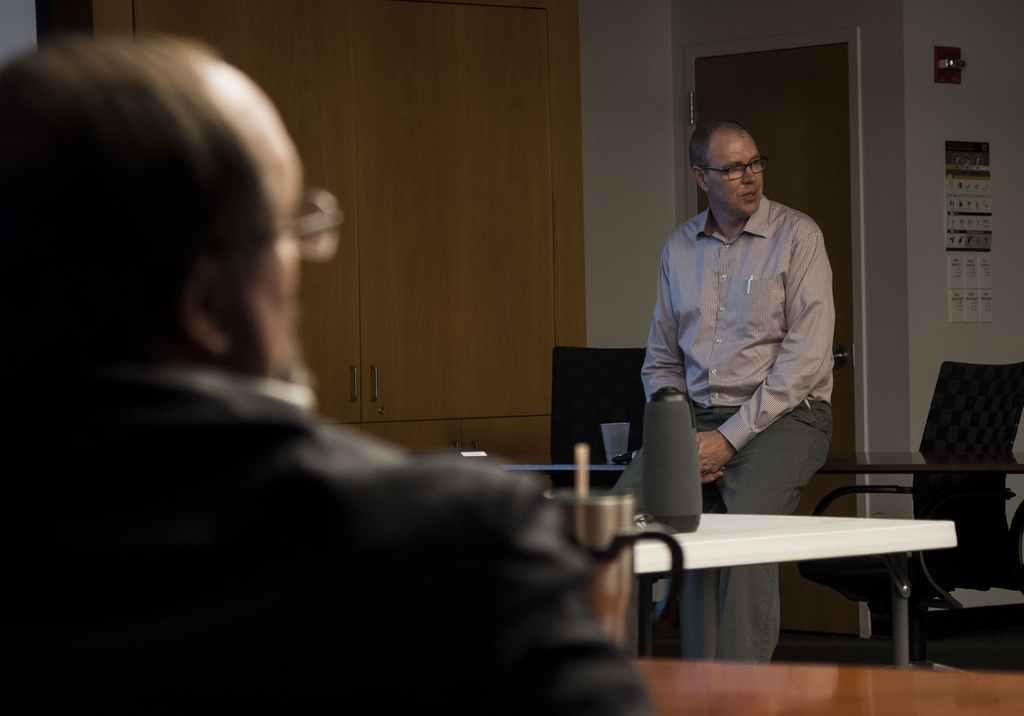 By Danielle Pycior | Bond LSC
A casual conversation amongst friends two years ago turned into an initiative to better connect scientists doing related work across the University of Missouri campus.
Hot Topic research networking was born out of informal discussions, growing into a cross-campus and cross-discipline network.
"They need to talk and communicate to build things up and down the chain," said Karla Carter, executive assistant to Bond LSC director. "That's where some of the most exciting science is born."
Carter explained that by helping facilitate these discussions, Bond LSC helps widen the scope of normal science and pull different researchers from across the MU campus together. Ultimately, that can lead to new, exciting types of research.
Three main research networks emerged from initial efforts, focusing on cancer biology, host/pathogens and metabolomics. In each discussion, a main presenter either shows successes they are experiencing in their labs or difficulties they face. By bringing diverse minds together, they can learn from one another and help each other overcome challenges in their fields.
At a recent research network for metabolomics, Aaron Ericcson, assistant professor of veterinary pathobiology, spoke about discoveries in his lab regarding colon and rectal cancer in mice.
"Research networks really open up everybody's eyes to what else is going on throughout campus," Ericcson said. "These are great ways to go out, show your science and just make yourself known."
He spoke about how easy it is for scientists across disciplines to never meet or know what other fields may be doing differently right down the street.
"I always pick up something, some new tidbit of knowledge, but it's definitely opened up some new collaborations. No matter what talk I go to, in the back of my mind I'm thinking of it in a microbial context," Ericcson said.
At the end of the discussion, two gentlemen stayed behind to talk with Ericcson about his work and possibly begin a collaboration of their own.
Michael Petris, professor of biochemistry and Bond LSC primary investigator, was fascinated by the relationship between microbiome and cancer.
"For me, what's cool is the different models that are available, which I can learn from and use in my own work," Petris said.
He and Mark Hannink, professor of biochemistry and Bond LSC primary investigator, began discussing new possibilities for their own research afterwards, excited by new thoughts and ideas.
"Of the combination of different ideas and different approaches, the different approaches are more important," Hannink said. "If we learn something can be done that we didn't know was possible before, that's what I think is the most beneficial part of these discussions."
Hot Topic discussions happen at Bond LSC every week with the hope of inspiring more cutting-edge research. Anyone from any field is welcome to attend the discussions and to learn about the various practices happening all around campus.
"This is how science really moves ahead," Petris said. "You have to bring people from different backgrounds together."
Check out Bond LSC events page to see when the next Hot Topic session is.