#IAmScience Patience Okiring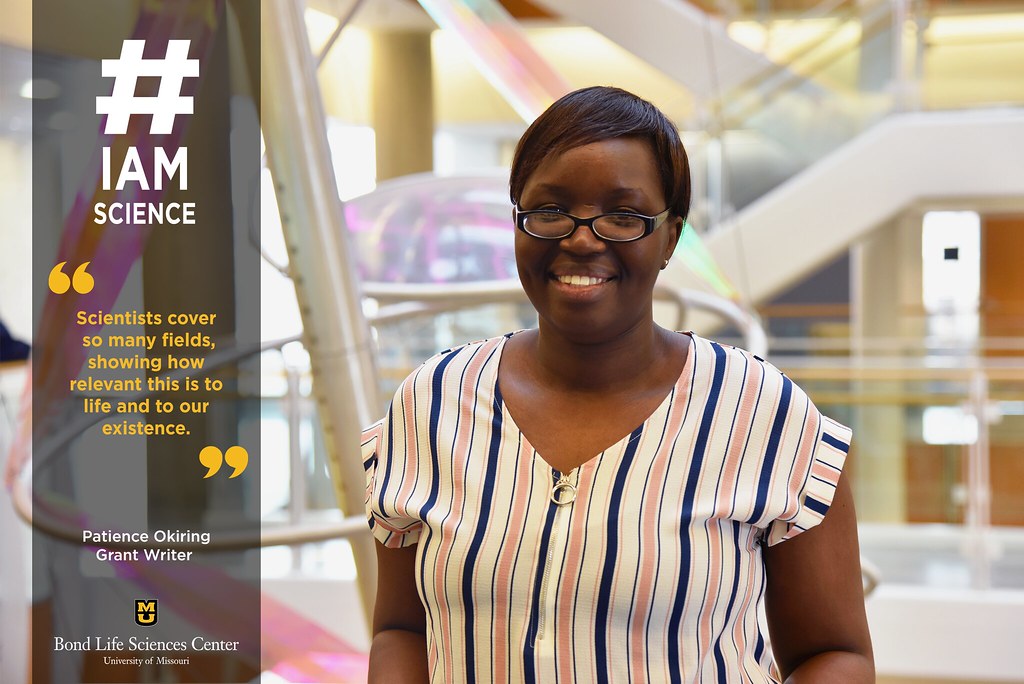 By Danielle Pycior | Bond LSC
In the warm, inviting atmosphere of the Bond LSC fiscal office reside the unsung heroes that make science possible.
When a new discovery is made, few look back to see who wrote the grants and secured funds that allowed the research to thrive, yet those staff members quietly fight for researchers every day.
After only a year as a grant writer, Patience Okiring has worked on so many grants that she can't keep count.
"There are a lot of challenges, of course, but it's like a new discovery every day," she said.
Okiring appreciates each challenge she faces, saying it pushes her to be more than she was before. Each morning she walks into her office with the attitude that today can bring a new opportunity to learn and be more capable of securing funding for researchers.
"Experience offers a degree of excellence, so I want to grow in the field, be able to guide scientists and be in touch with what's going on," she said.
Though her title — grant writer — seems simple, each day is different from the next, and she values the diverse experience that not only her work but also the diverse relationships bring. The interdisciplinary nature of Bond LSC is something she doesn't take for granted.
From diseases to genetics, plant health to animals, Okiring values how her work interacts with so many fields that aid in life and the pursuit of a better existence. She hopes to guide and support scientists in their pursuit of answers.
"It feels like being a part of a support system, being there to push through the process and bring the different components together," she said. "No doubt, this is what I want to do; I am happy and content."
Okiring's love of science formed at a young age. She grew up in Kenya where her dad was an engineer who helped her find a passion for chemistry. Though her undergraduate degree focused on creative arts such as dance, music, film and acting, she never stopped appreciating and caring about the sciences.
After a graduate degree at the University of Central Missouri, she worked at the UCM Violence and Abuse Prevention Program where she wrote reports and assisted in grant writing. Eventually, she ended up at MU's campus and has no plans of leaving.
"I feel pulled here," she said. "I don't want to work anywhere else."
Okiring's curious mind and attention to detail make her a fantastic grant writer, one who will continue working and growing in the hopes that what she does helps push scientific research in a positive direction.
"Scientists cover so many fields, and that shows how relevant this is to life and to our existence," she said. "There is productivity and efficiency in this work."