#IAmScience Chris Pires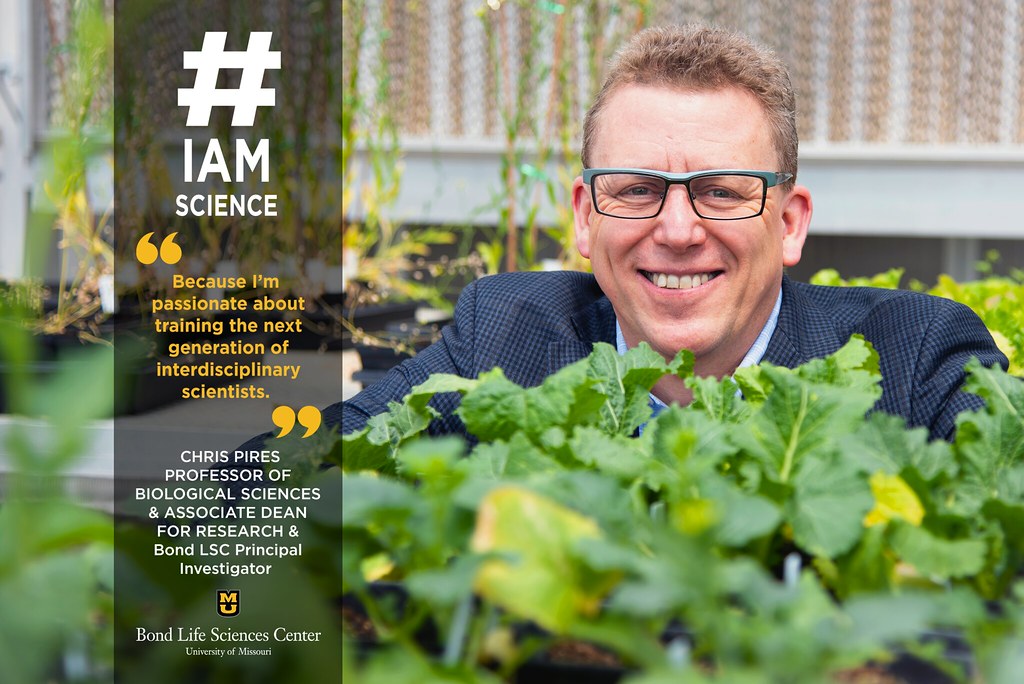 By Danielle Pycior | Bond LSC
Through Chris Pires' eyes, science isn't an unconnected ideology in which scientists hold the proper way of understanding the world, it is an answer-seeking process in which humans strive to understand existence and the things around and within it.
"I don't think science is a thing, it's a way of thinking" Pires said. "I like to think I live the life of the mind."
As a kid in a rural northern California town, he dreamt of exploring the universe and alien landscapes, but enthusiastically settled for the unobserved below the surface. He often hung out with bees, wasps and other insects, fascinated by their nature. Yet, one fateful day, he was stung by a bee, rendering them off limits for a future career. This led him to look beyond bees to flowers and plant life.
"Plants are amazingly alien and interesting because they cannot run away from a hostile environment, they have to figure out how to survive and reproduce where they are," he said.
In high school, an inspirational teacher taught him more than just human biology, introducing him to a world of plant and environmental biology. Over the lunch hour, his teacher would teach an advanced placement course that created a space for Pires and others to learn more than they otherwise could, in an open and accepting way. Now as a professor, Pires is able to do the same for his students.
"Growing up in a small town, you have to learn how to create your own world," he said.
As an undergraduate at the University of California – Berkeley, he studied genetics and philosophy, always fascinated by the interconnectedness of ranging topics. After graduation, he held a few positions doing things he enjoyed but soon realized his desire to return to school. He received his Ph.D. at the University of Wisconsin – Madison, then working as a postdoctoral associate until he made his way to MU in 2005. Since that time, he has been promoted to full professor, principal investigator at Bond LSC, associate dean for research and won numerous awards for leadership and research.
"A constant for me is living the life of the mind and creating spaces where I can think and I can engage other people in cool things," he said. "And I think I've been successful because I've been able to build these large interdisciplinary teams that do cool science."
Pires, though quite successful, said the real success lies within his lab and among the researchers he has worked with. He appreciates the ability to face the "gray spaces" that challenge concepts of what a species is or the "gray spaces" of interdisciplinary fields that connect along and within science and humanities. He understands the world through a lens of interconnectedness and dependence, which leads him to appreciate what a team has to offer.
Though many see him as an extrovert, he has a quiet, reflective nature to his character. Whether he is walking his dog in the morning, swimming laps in the pool or gardening in his yard, he values the time to recharge and renew his spirit, allowing for his unwavering enthusiasm.
Apart from the enthusiasm that is often appreciated on his teacher evaluations, he is a connector. He sees his value in connecting students to information, researchers to ideas and collaborating on interdisciplinary work that paves the way to new opportunities.
Regardless of what the future holds, Pires plans to continue collaborating, learning and thinking of new ways to do research and to connect more people together. He values the opportunity to continue training the next generation of interdisciplinary scientists.