#IAmScience Henry Wan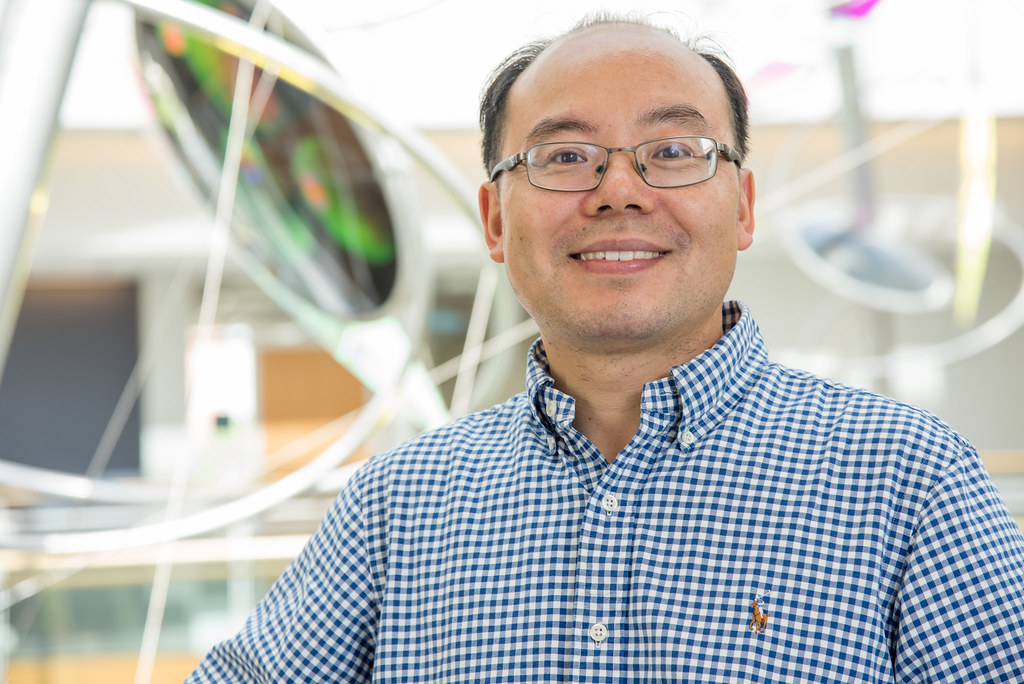 By Mariah Cox | Bond LSC
Every year we all tend to pay a visit to the doctor to get ahead of cold and flu season. Nothing could be worse than being in the midst of a hectic time at work or school and being out of commission.
Many don't think twice about the annual flu shot, it just becomes a part of their autumnal routine. But for Henry Wan, a new primary investigator in the Bond Life Sciences Center, a significant portion of his life revolves around understanding how flu viruses get transmitted from animals to humans and vice versa as well as tracking down more effective influenza vaccination strains.
Flu viruses caused more than 959,000 hospitalizations and 79,400 deaths during the 2017-2018 flu season in the United States, according to the Centers for Disease Control and Prevention. And influenza A virus (IAV), also known as the avian flu, has caused pandemics that resulted in millions of deaths in poultry, and fear of widespread transmission to humans and other mammals.
Wan's interest in influenza started in 1996 after an outbreak of avian influenza (H5N1 virus) in South China. In 1997, this same virus caused another outbreak in Hong Kong that killed 40 percent of geese infected and crossed over to infect 18 humans, causing six of them to die.
While extremely noteworthy because the strain seemed to jump from poultry to humans, researchers weren't able to pinpoint how these viruses were circulating in wild birds and predict which avian flu could transmit from wild birds to human and from human to human.
"Over the past decade, we've been trying to study how influenza emerged in the animal-human interface," said Wan. "Influenza transmission among humans and different wild and domestic animals have been well documented for decades, however, the detailed mechanism is far from being understood. We still cannot predict emerging risks and provide precise alerts for influenza emergence for domestic animals and humans."
Wan grew up in a small town in central China on the Yangtze River. After earning an undergraduate degree at Jiangxi Agricultural University in Nanchang, China, Wan decided to pursue an advanced degree in Avian Medicine at South China Agricultural University in Guangzhou, China. Afterward, he moved to the United States to obtain his Ph.D. in veterinary medicine and a master's in computer science at Mississippi State University where he studied mycoplasmas in poultry rather than influenza.
While mycoplasmas weren't the peak of his research interest, he still enjoyed studying them.
"I was a poor student from China and didn't have the opportunities that are available now. The student assistantship at Mississippi State University provided by mycoplasmas study was a good opportunity," he said. "While at MSU I also had an opportunity to study computer science while finishing my Ph.D. and that really helped me build a foundation in systems biology."
Wan spent a short period at Oak Ridge National Laboratory in Tennessee before finishing his post-doc at the University of Missouri in the lab of Dong Xu.
From there, he started his teaching and research career at Miami University of Ohio, however, he didn't get back to studying influenza until he moved to Atlanta to work at the Centers for Disease Control as a senior scientist fellow in 2007. Wan dived back into academics as a veterinary medicine professor to graduate students at Mississippi State University in 2009 and remained there until coming to MU this fall.
His focus on influenza will be helped by a recent $2.8 million National Institutes of Health (NIH) grant to develop and implement high-throughput technology to study and characterize influenza viruses' antigenic properties and understand antigenic evolution of influenza A viruses. This technical-sounding purpose truly means his lab will work to advance the technology behind vaccine strain selection, especially for children, elderly and pregnant women, to provide a more universal flu vaccine strain for the general population.
Additionally, the project will explore the mechanisms that cause variation in influenza virus quasi-species and establish a history of prior human exposure to influenza viruses in an effort to improve strain selection.
"The mechanisms that cause variation in quasi-species will help us understand how influenza variants emerge in humans and help develop a better-targeted surveillance and prevention strategy through vaccination," Wan said.
While Wan has only been at Mizzou since this summer, he's jumped feet first into research collaborations here. He's also involved in a cross-campus project funded by a University of Missouri System Tier-2 grant to build more research capacity for data-driven discoveries and a grant from the U.S. Department of Agriculture (USDA) to develop a broadly protective E. coli vaccine, among others.
When not in the lab, Wan enjoys spending time outdoors, running and biking along the Katy trail, as well as playing Ping-Pong with his friends. He believes in exercise as an outlet for brainstorming new ideas, rather than just sitting in a lab or his office.
"I think that's critical, especially in science and research. A lot of the time I get a sparkling idea from exercise, not from sitting in this office. It's from when you do something else another idea comes," Wan said.
This research is funded by the National Institute of Allergy and Infectious Diseases of the National Institutes of Health. Wan is a Bond LSC primary investigator and joint professor of Molecular Microbiology and Immunology in the School of Medicine, the Department of Veterinary Pathobiology and Electrical Engineering and Computer Science.