Around the shore a million stood
The complex title of the new painting in Bond LSC represents the nuance of its meaning.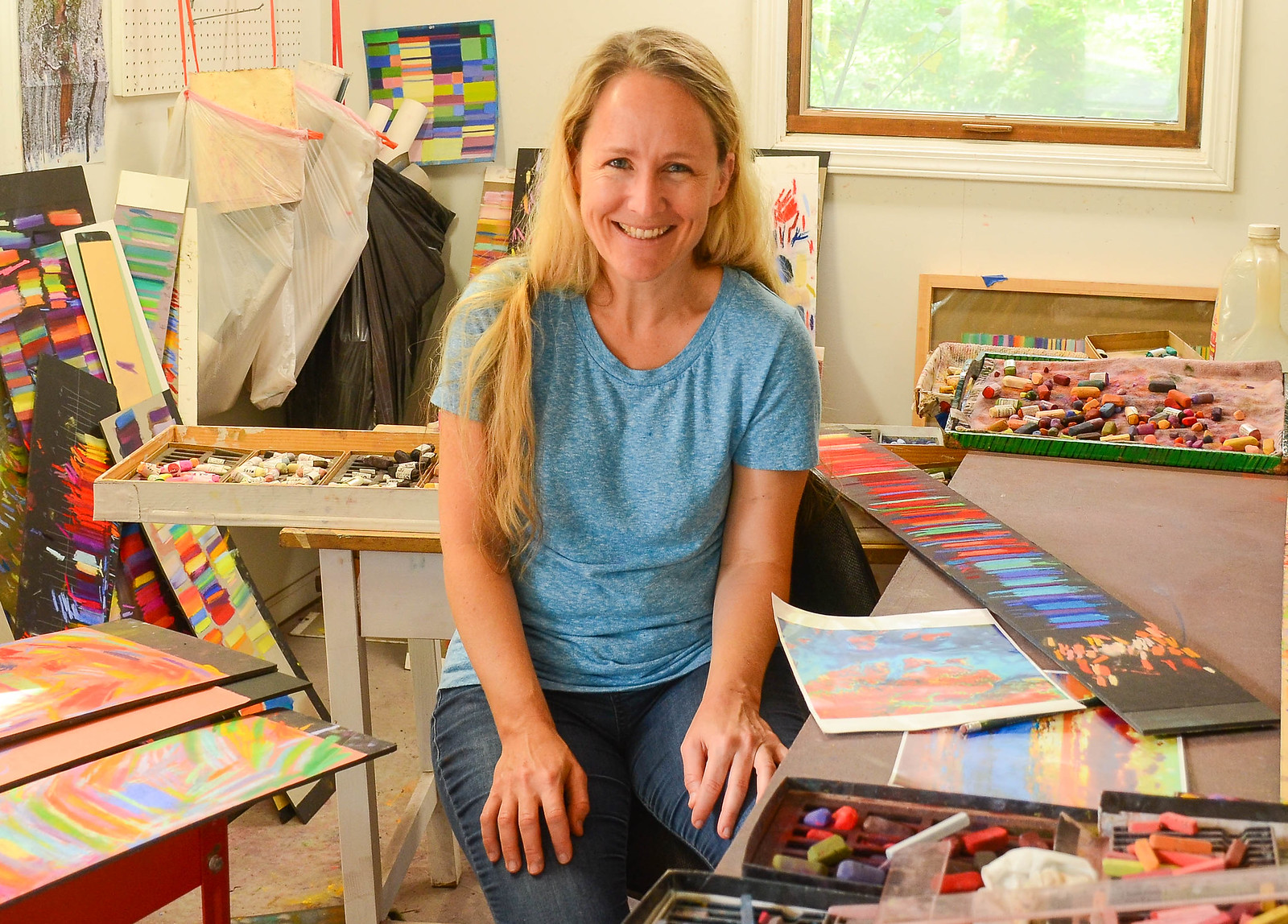 By Danielle Pycior | Bond LSC
It appears to simply showcase a spectrum of beautiful colors, but there is much more than meets the eye to the painting above the plant wall by Monsanto Auditorium in Bond Life Sciences Center. Its creative expression is the work of local artist Kerry Hirth and has a particularly unique provenance.
Dean Bergstrom approached Hirth one day when she was in the administrative offices hanging some of her paintings as part of a program where the Columbia Art League loans out artwork to offices for exposure and sale. He walked her down to the living wall, pointed above it and said, we need something to fill that space, will you do it?
This led to the art piece that hangs above the living wall, which is the largest and most challenging work that Hirth has ever created. While she is proud of the outcome, she said she'll never create something that large again.
Hirth had to plan for a variety of things such as discoloration of the wood board from the pastels, the scalability of her art onto something much larger than normal, exposure to dust and the test of time, among other things, which made the project the challenge of a career.
"It took a long time – there were some things I couldn't control," she said. "The epic nature of planning the materials and the execution of meeting a specific end result was challenging."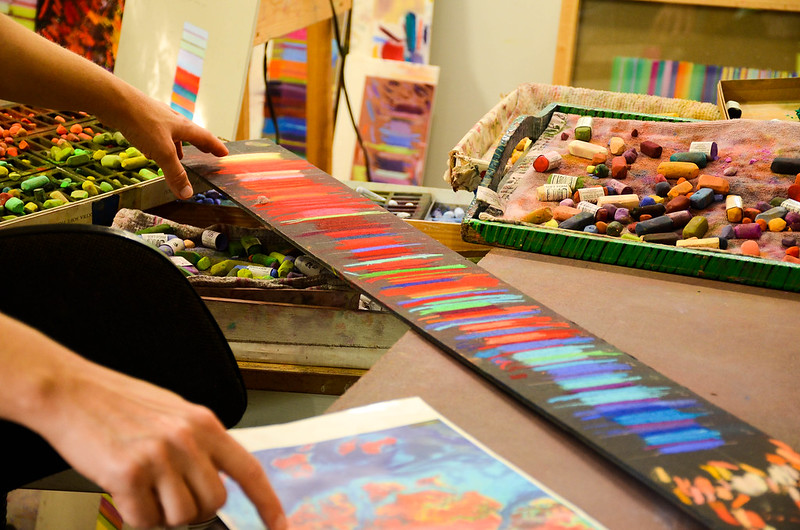 After months of preparation and planning on her end and with Bond LSC's facility staff, she finally began to paint the real deal. Equipped with her hazmat suit, her facemask, an endless supply of gloves that built up over time and the large wooden board, she took creative determination to an entirely new level.
"The project was like mental torture," she said. "When you're an artist sometimes physical exhaustion isn't a thing. If you have the impulse to do something, then you have to do it. I wanted to make a really large painting and I did."
Hirth is a member of the American Association for the Advancement of Science, and received both her undergraduate and graduate degrees in Philosophy. She now teaches ethics at Moberly Community College along with producing art. She's a woman with many interests, which only aids in the complexity of meaning in her work. She said her work isn't meant to be socially or politically charged but is meant to stir the imagination.
In 2007 when Hirth and her husband moved to Chicago, inspiration struck. She recalls he had a fantastic office with a nice view and spent a great deal of time there. So, she decided to create an art piece to bring some color to his day. For something to hang in the spot she imagined, it would have to be long and thin, so she went to the store and bought the supplies. Little did she know that would be the beginning of a career in art.
Around that time, Hirth found out she had synesthesia, a condition where one of the senses is simultaneously perceived with another. In her case, she sees color attached to sound, more specifically music.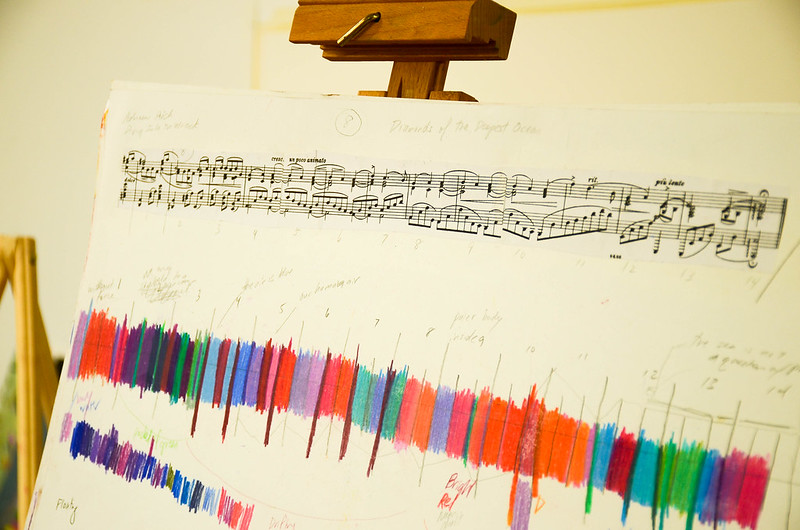 "I wanted something that was meaningful in that space," she said. "For whatever reason, I used that paper, started from left to right, and began to paint in the colors of music. It happened to be a Bach piece."
 Growing up playing piano and drawing with pastels, this project for her husband's office brought two of her loves together in a transformative way. To others, it seems incomprehensible to associate a complex musical composition with such specific colors, but to Hirth, things are much clearer. Her brain sees a reality that most people can't imagine.
"Because the experience is so consistent with harmony and color, that's how I can create a pattern," she said, pointing to the horizon in the distance. She said it's just like the pattern of a horizon that stretches from bottom to top, she naturally sees certain colors from left to right when hearing a musical composition.
Though Hirth didn't discover this specific form of art until later on in her life, she's always had an impulse to create things, and said it isn't about casually following desire, but about being pulled to do something. After that first painting, she had to create more.
"I was always aware of how I was different, but I couldn't before express it in a way that was interpretable to people, and evidently now I can," she said.
The painting has many more depths than just the color she sees through Sonata in E Major K162 by Domenico Scarlatti. She also connects the left to right color scheme to the first section of The Wanderings of Oisin by Yeats.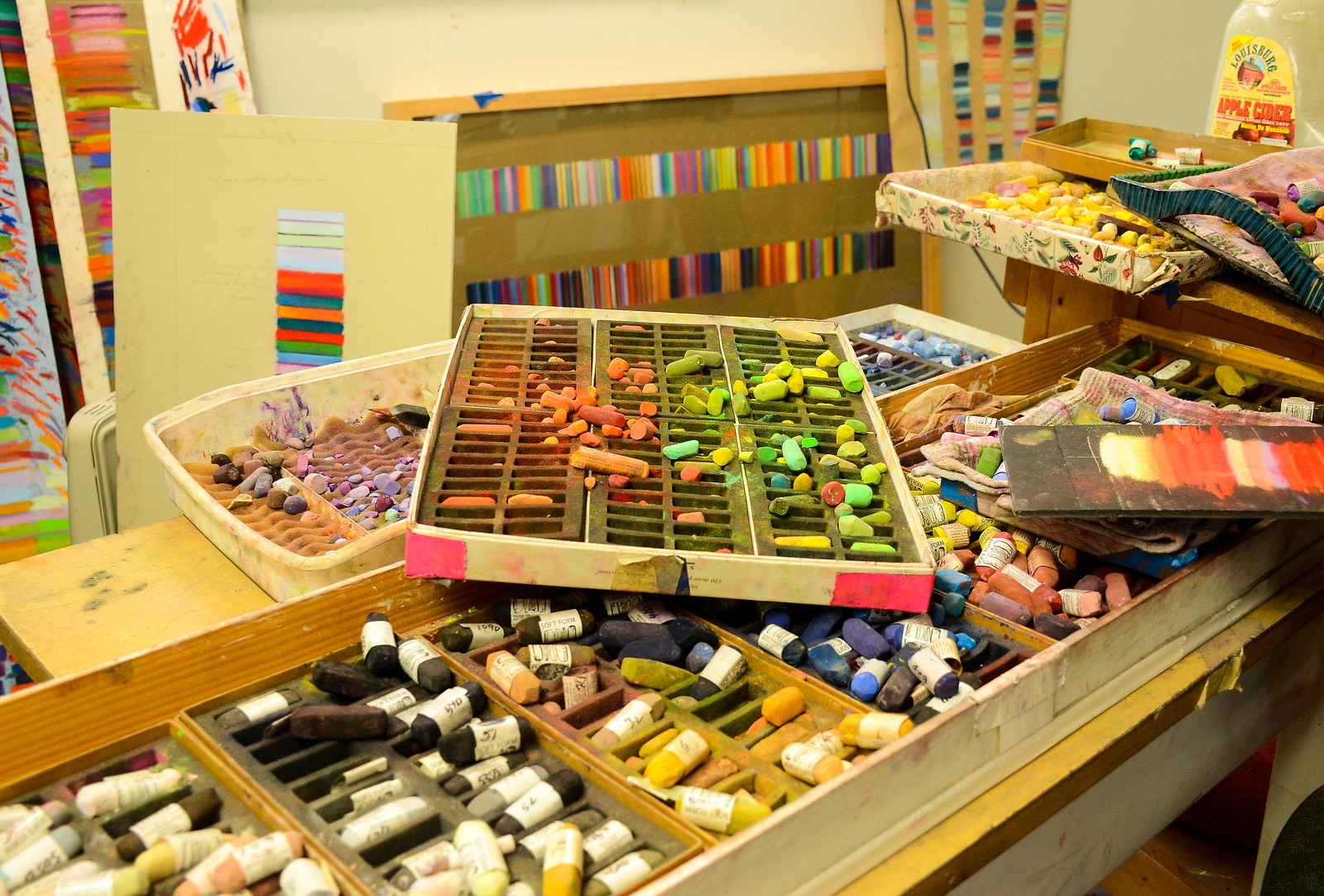 Hirth had previously collaborated with a composer on the poem to create art for a previous show. This amounted to an acquaintance with the piece that was hard to shake. She says it worked its way into her everyday thoughts for months and the colors associated with the epic poem were also colors she saw in that composition. She chose the two for the painting because they combined together on so many meaningful levels. She said the epic poem is something bigger than herself; it simply amplifies the importance of the work.
"In the story, Oisin is a mortal king who gets taken by an immortal woman to her home in the Irish Isles," she said. "It's about the three different islands that they visit throughout his journey and his return back to human lands."
The colors in the painting represent the journey that Oisin takes throughout the story. It represents a narrative, the deeper metaphors within that narrative and a complex musical composition as well. What can easily be taken as a pallet of colors up on a wall, is in reality a painting with more levels than any of us could ever intuitively understand.
"The painting itself is divided into three parts," Hirth said. "The first part is water, the second part is land and the third part is sky."
Hirth thought and planned for months to help create the perfect symbol for not only the living wall but for the Bond Life Sciences Center. Though it was the toughest project she's worked on so far, she's proud of the outcome.
The artwork Hirth created can be seen outside of Monsanto Auditorium above the plant wall. Minus the cost of supplies, Hirth graciously donated the piece to Bond LSC to inspire our scientists, students and visitors.