#IAmScience Madison Green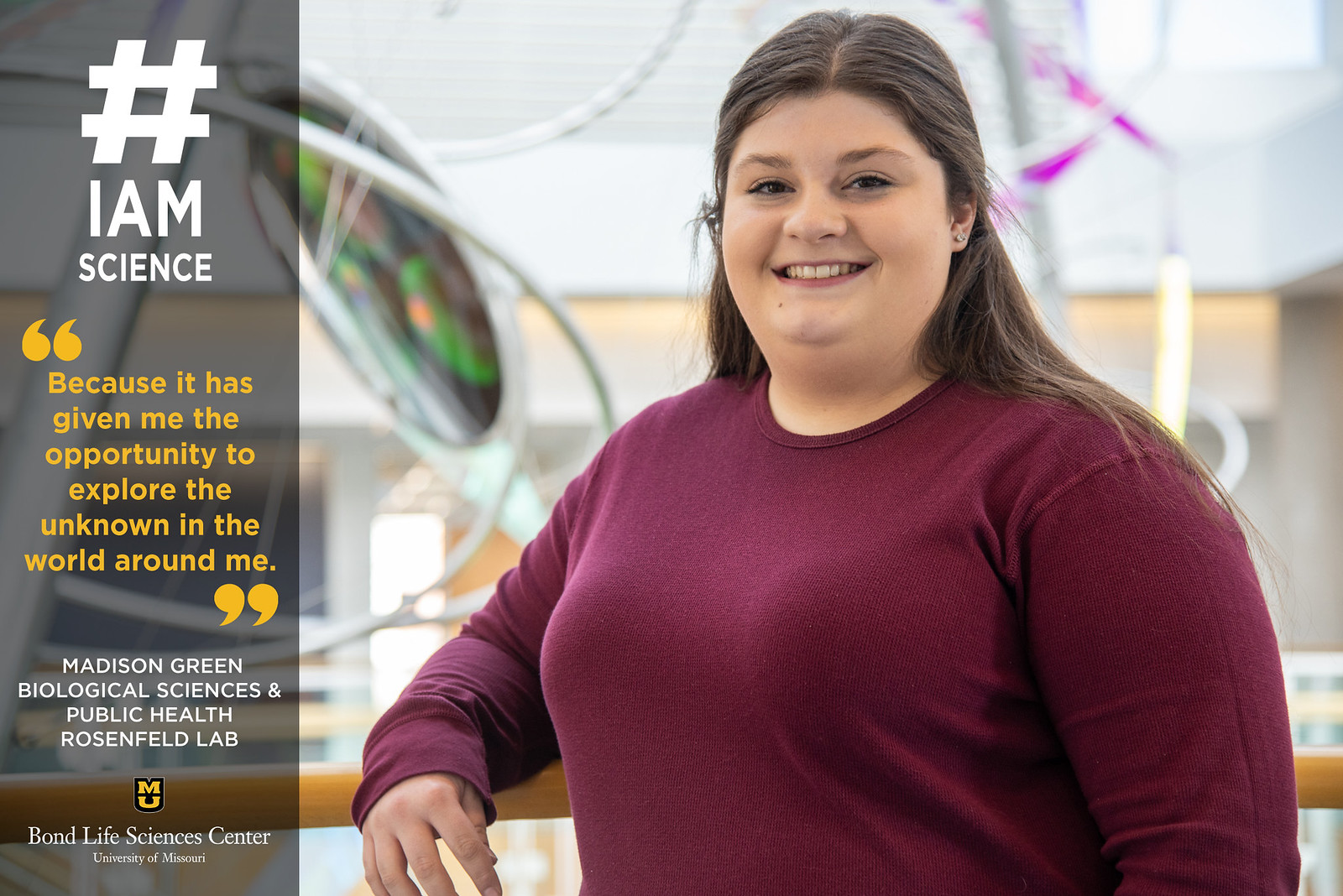 By Mariah Cox | Bond LSC
It's hard for a sixth-grader to nail down exactly what she wants to do for the rest of her life, but that's when the process started for Madison Green. After all, it isn't the easiest of decisions.
With a wide range of possibilities, it can be hard for anyone to be truly sure of a decision that will shape the rest of their life.
For Green, a junior biology and public health dual major, her path shifted toward science when she joined Science Olympiad, a national nonprofit organization dedicated to improving the quality of K-12 science education.
Once a week, every week for seven years, Green met after school with her friends and mentors to learn and prepare for competitions. The organization gave her the opportunity to try out different areas of science such as chemistry, biology and physics. With events that range from building Rube Goldberg-like devices to others focused on microbes or designing experiments, the events and preparation run the gambit of science, medicine and engineering. Through the academic seasons, Green built on what she learned previously, expanded her knowledge of science and fell in love with research.
"Science Olympiad really helped me focus more on biology and it also helped me become an independent learner," Green said. "For all the events at the national level, we really had to take charge and decide what we needed to learn and where we needed to strengthen our knowledge."
After all of her years competing in Science Olympiad, Green knew she wanted to pursue science, but the question now was in what capacity.
Early on in her undergraduate career Green started looking for opportunities in research to supplement what she was learning in class. She remembers being drawn to Cheryl Rosenfeld's lab in the Bond Life Sciences Center because of the opportunity to research behavior in mice models.
"I became very interested in public health in high school," Green said. "When I got to college, I began exploring different careers in the health care field and public health really stuck out to me. I realized I wanted to work more one-on-one with patients."
Being able to give back and help her community was a top factor in Green's decision to add public health as a second major. She saw the opportunity to connect her interest in biology and public health through her research in Rosenfeld's lab. Overall, public health's ability to assess problems on a population level drew Green in.
"We're looking at the maternal-fetal effects of oxycodone on mother mice. My research partner is looking more at behavior and I'm looking at the placenta," Green said. "It's definitely an interesting bridge for myself between my biology major and my public health major. As a public health major, we've looked into the opioid crisis and the effect's it's having across the nation and here in Missouri."
In order to solidify her decision, Green also joined Beta Beta Beta, the biology honor society, and pre-med society. In both groups, Green has found support and guidance from her fellow peers and mentors. Ultimately, her involvement in pre-med society is what guided her toward applying to medical school post-graduation.
But now, the big decision lies in what branch of medicine to pursue.
"I'm hoping to figure that out when I get to medical school, but right now, I'm really focused on emergency medicine as a strong contender," Green said. "I think there is a great opportunity to impact public health whether it be because of the opioid crisis or people whose symptoms have worsened over time because they didn't have access to a family health practitioner."
Green's life has been composed of carefully calculated steps that will one day launch her into her career. From Science Olympiad, to Rosenfeld's lab, science societies and one day medical school, Green wants to ensure she's on the right track.