Bringing in talent: New labs look for recruiting edge at annual event
By Jerry Duggan | Bond LSC
It was an entirely new process for Henry (XiuFeng) Wan as he spent part of last weekend wooing potential graduate students at the 11th annual Graduate Life Sciences Joint Recruitment Weekend at the Bond Life Sciences Center.
As a relatively new faculty member, Wan took his first stab at recruiting in a way he's never had to before. Previously having worked for years at Mississippi State University, he has never had to actively recruit students for his lab before but sees it as an exciting challenge.
"I want to really connect with the students personally," he said. "It will be exciting to see what experiences the students bring to the table."
About 57 prospective students from across the country and all walks of life traveled to Columbia to vet different graduate programs across MU's campus. The event equally offers potential Tigers a look at their future departments — specifically biochemistry, biological sciences, genetics area program, informatics institute, molecular pathogenesis and therapeutics, the interdisciplinary plant group, plant sciences and the life sciences fellowship program — and offers labs the chance to recruit for assistantships and the positions necessary to keep research running smoothly and productively at Mizzou.
Amid words from Debbie Allen, coordinator of graduate initiatives, and Jeni Hart, dean of the graduate school and vice provost for graduate studies, potential recruits heard a glimpse of what can be possible from George Smith.
Smith, a professor emeritus of biological sciences at MU, went on to become a Nobel laureate in Chemistry in 2018. In his brief remarks, Smith emphasized the collaborative nature of research.
"As scientists, we should not take pride in our individual accomplishments," he said. "Instead, the greatest satisfaction we should have as scientists is that we are respected members of the research community, because we all depend a great deal on each other to correct our mistakes and carry on where another one of us left off. Without that community, we can only accomplish so much on our own."
He also argued that present day discoveries are hugely indebted to those who came before in the research process. On the same token, Smith said we also owe appreciation to those in the future who go on to do things we could only imagine.
It was in that spirit that the attendees mingled over refreshments and discuss their research interests with each other and Mizzou faculty. According to Wan, this personal interaction with prospective students is what made him so excited about this weekend.
"There are a lot of great candidates out there, but you can only learn so much about them from a transcript or letter of recommendation," he said. "By talking with prospective students one-on-one, you can get a much better sense of what kinds of research they're passionate about, and just get them to open up a lot more about their experiences."
While this is Wan's first go-round at this type of recruitment event, he is not nervous about the recruiting aspect of it. His approach is to let students' intellectual curiosity fuel the conversation.
"I would imagine time goes by quickly at this sort of event, so I want to encourage all of the students — especially the ones who can sometimes be more shy — to really open up about their specific interests," Wan said. "It's really exciting from my perspective to see where their minds are at, and I think Friday night's event would be a good time to see that."
The event reconvened Saturday morning as each lab displayed posters with work they are currently doing. Wan's two posters showcased his growing lab's work, which focuses on improving the effectiveness of influenza vaccines. Two of Wan's current Ph.D. students —one who handles the bench research and the other who does computer science-related work — joined him to add more perspective.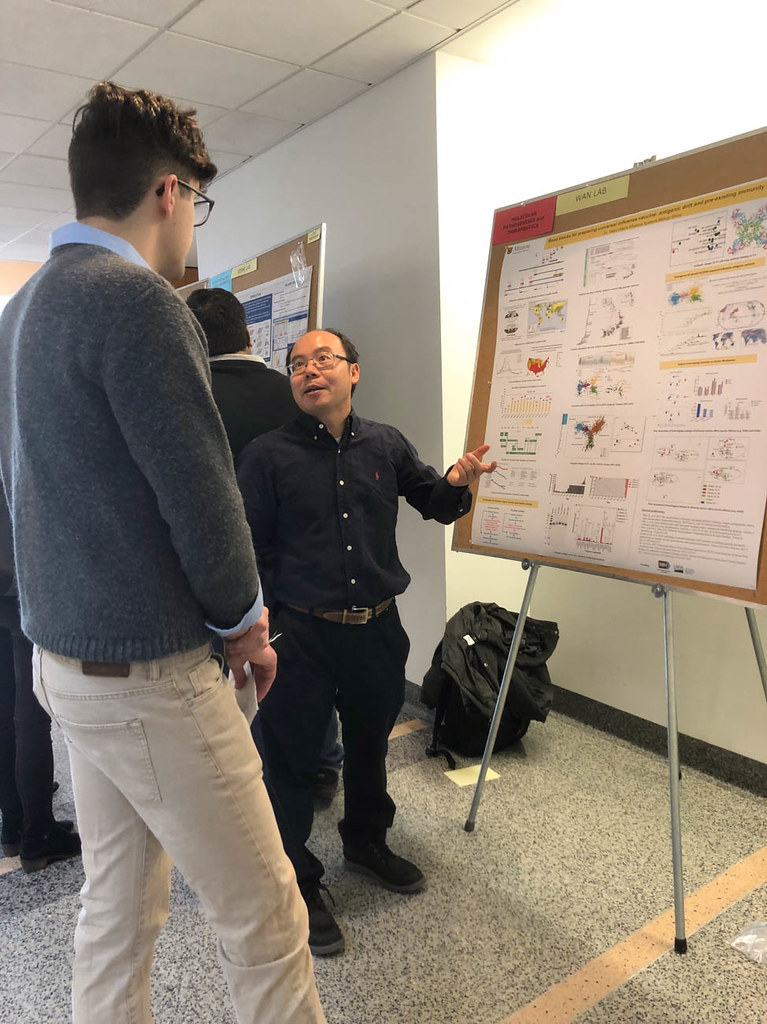 Wan's presentation was a big hit with prospective students. Lynden Voth, a May 2019 graduate of the University of Kansas, was very impressed with the relevance of his work.
"He's doing really important work, because influenza affects such a huge subset of the population every year," he said.
Voth, who works full time in a lab now on a slightly different type of virus, sees a lot of overlap between his work and Wan's.
"I really appreciate not just the content of his work, but also how many different projects he's working on at one time," Voth said. "The collaborations he has with other agencies really impressed me as well. I could definitely see myself fitting in nicely here."
According to Wan, who is looking to fill four spots in his lab next fall, prior research experience only means so much.
"One of my current students actually had no prior research experience at all," he said. "She hadn't done so much as hold a pipette, but I could tell right away that she had curiosity and passion for research. That's what matters most, and that's what really excites me about this weekend-getting to see that passion on display."