Shirwan, Yolcu Bring Pedigree, ProtEx Technology to Bond LSC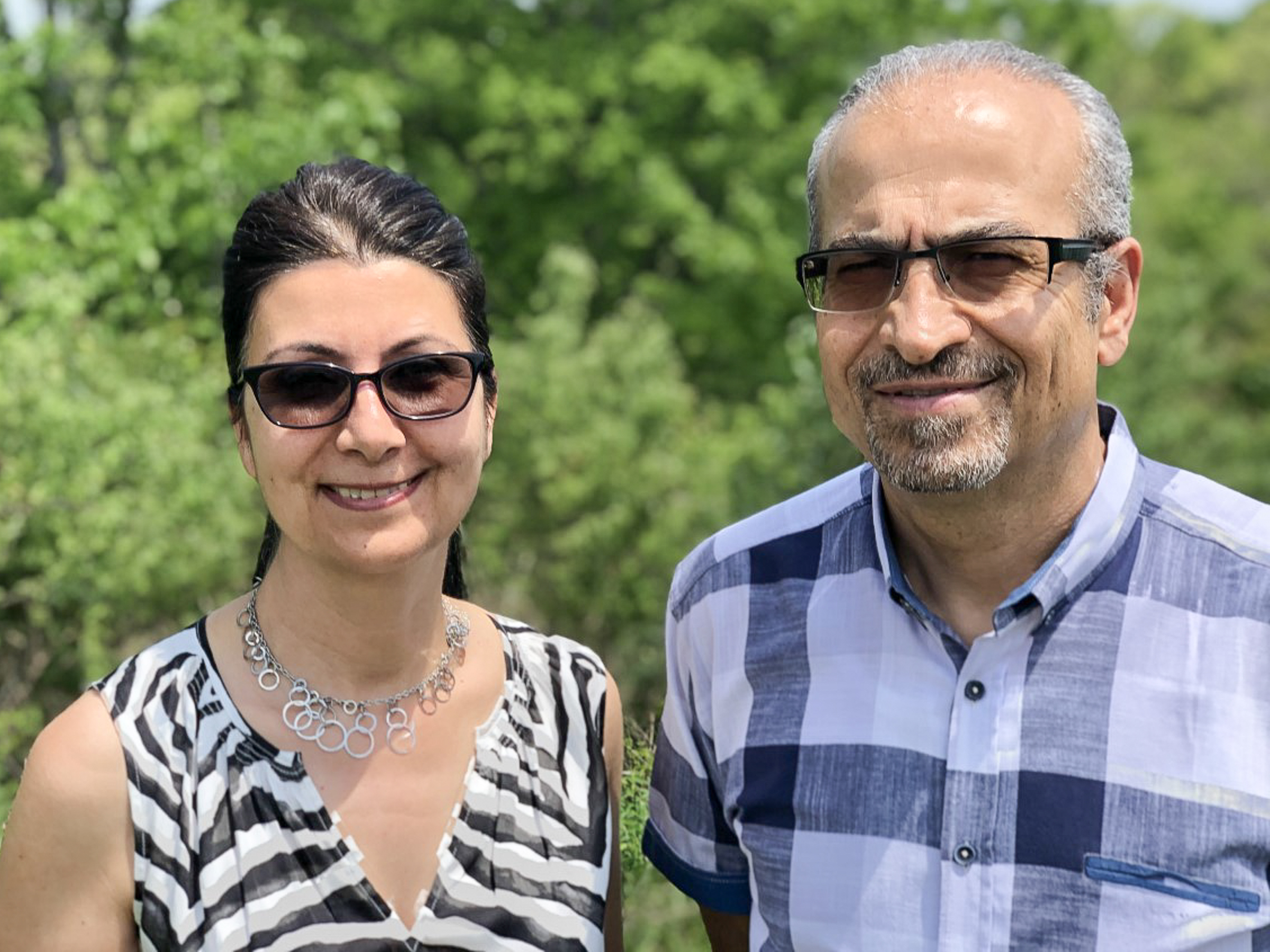 By Jerry Duggan | Bond LSC
Haval Shirwan and Esma Yolcu arrive at Bond LSC as accomplished researchers.
While having different expertise within the field of immunology, the married couple collaborates extensively on research and together developed ProtEx technology, an alternative to traditional methods of gene therapy for immunomodulation with applications to autoimmune diseases, transplantation, cancer immunoprevention and immunotherapy, and vaccines against infections
With work published in numerous peer-reviewed journals and 19 patents to Shirwan's name, they both arrive at Mizzou ready to build on their research background and contribute to the new precision medicine focus for the UM System.
But success didn't always come easily for the couple.
Shirwan grew up in the shadows of Mount Ararat in eastern Turkey, and was always fascinated by how the beautiful nature in the area came to life during spring after a harsh winter. From then, he knew he wanted to spend his life studying something in a science-related field.
After completing his undergraduate education in Turkey, Shirwan received a scholarship via NATO to complete his Ph.D. in the United States at UC-Santa Barbara. From there, he obtained a postdoctoral fellowship at California Institute of Technology, where he worked under an esteemed group of researchers, spent a few years in Philadelphia and arrived at the University of Louisville where he has spent over 20 years in the Department of Microbiology and Immunology.
Yolcu also grew up in Turkey, but did not meet the man who is now her husband until much later in life.
After completing her undergrad and Ph.D. in her homeland, she faced a difficult decision, between continuing in her field of training — cancer biology — or taking a leap of faith to pursue her emerging passion of immunology. That decision would require her to move to the United States for a fellowship at the University of Louisville, which she did.  She originally planned to return to Turkey after the fellowship, but after meeting Shirwan, decided to settle in the US and make her career here.
Shirwan and Yolcu bonded over their passion for immunology worked together to develop their esteemed ProtEx technology. But, their initial desire to do so came not out of inspiration but rather out of frustration at the shortcomings of traditional gene therapy methods.
"DNA-based gene therapy is a complicated, exhaustive and expensive technology," Shirwan said. "We wanted to see if there was a more efficient way to do immunomodulation."
In traditional methods of gene therapy, DNA must first be introduced into the cell, but ProtEx technology bypasses that step, instead sticking the protein directly on the cell surface for immunotherapy.
The advantages of this method are twofold: it is much more efficient than gene therapy and allows proteins which may be harmful to the cell to "get out of the way" quicker once the process is completed.
Although this technology has received much acclaim from the global scientific community, the breakthroughs took years of work. While Shirwan took charge of the more technical details of ProtEx, it was Yolcu who urged him to be patient and keep trying new strategies when he was ready to give up on the technology altogether.
"In the mid 90s was when we had our breakthrough with ProtEx," he said. "By the time we reached that point, I was about ready to give up, but (Yolcu) urged me to keep trying."
Their breakthrough came when a group of animals treated with ProtEx techniques experienced unprecedented recession of cancerous tumors on their body. At first skeptical, Shirwan and Yolcu repeated the experiment several times. The result was the same; the control groups saw enlarged tumors while the group treated with ProtEx technology saw their tumors recede greatly. Their innovative immunomodulation technique of placing protein directly on the cell surface had worked. The couple published their ProtEx findings initially in 2002, but continued to fine-tune ProtEx and discover new things along the way.
While they have already accomplished so much together, they believe they still have much left to learn.
"What's so fascinating about immunology is that we often think we've made so much progress and know so much about the immune system, but in reality, we still know very little," Yolcu said. "Studying immunology gives me a sense of peace, and I'm excited to continue our work at Bond LSC."
To that end, the couple aims to establish themselves at Mizzou as soon as it's safe to do so (they are currently in the midst of a multi-phased moving process due to COVID-19).
This type of research contributes to the University of Missouri System's NextGen Precision Health focus. The NextGen Initiative unites scientists, government and industry leaders with innovators from across the system's four research universities in pursuit of life-changing precision health advancements.
Shirwan and Yolcu will establish a Center for Immunomodulation and Translational Research and aim to collaborate with clinical colleagues and scientists from all different backgrounds to continue to make headway in their work with the immune system.
"We want to build a powerhouse here," Shirwan said.