#IAmScience Barbara Sumner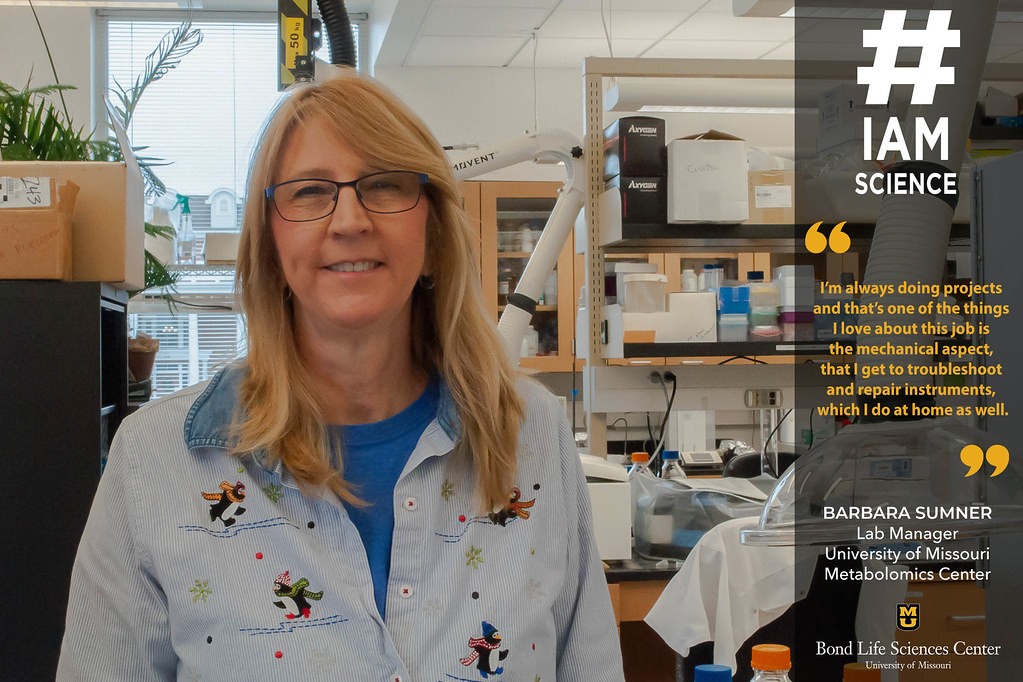 By Sarah Kiefer | Bond LSC
Barbara Sumner grew up in Houston, Texas, and discovered her enthusiasm for chemistry in high school, captivated by how chemical processes can explain how things work in our everyday lives.
"It was a subject that I just really loved," Sumner stated.
Sumner originally pursued chemical engineering in college, which she thought she would love because of how much she liked piecing things back together or fixing problems that arise in an experiment. But after deciding she enjoyed learning about the detailed understanding provided by the fundamental chemistry more than the engineering aspect of it all, Sumner switched her studies to chemistry at Texas A&M and then went on to receive her Ph.D. in mass spectrometry. After receiving her undergraduate degree, she married a nuclear chemistry professor at Texas A&M while working at the Cyclotron Institute there. She hadn't considered pursuing a Ph.D. before that, but while living in a small college town like College Station, Texas, she weighed the lack of opportunities that an individual with just a chemistry degree could have, and decided to go for it. She went on to teach chemistry at Texas A&M and eventually worked in the Mass Spectrometry Core Lab there as well.
After her first husband passed away, she moved to the Boston area and worked for an instrument company in the MALDI mass spectrometry division. She later married Lloyd Sumner and moved to Ardmore, Oklahoma, where he worked at the plant science division of a private research institute. Keeping with her passion for the subject, Sumner shifted to teach high school chemistry and Advanced Placement (AP) chemistry for 10 years. She found teaching to be rewarding and valuable, placing the experience as an important moment in her career. She valued teaching the subject she gained such a fascination with in high school.
"I think it is one of the most impactful things you can do, Sumner said. "I did enjoy it, but it's also one of the hardest and most stressful jobs I've ever done."
Teaching allowed Sumner to explain chemistry to others and encourage the ingenuity of young minds in and outside of the classroom.
In 2016, Sumner took off her teaching hat to move to Columbia in order to help out her husband with his new lab at the Metabolomics Center located at the University of Missouri. She works as a part-time Lab Manager and researcher in the Lloyd Sumner lab and for the University of Missouri Metabolomics Center, mainly working in mass spectrometry. Mass spectrometry is used to find the molecular weight of certain particles, which contributes valuable data to research in the fields of medicine, agriculture, plant science and biochemistry.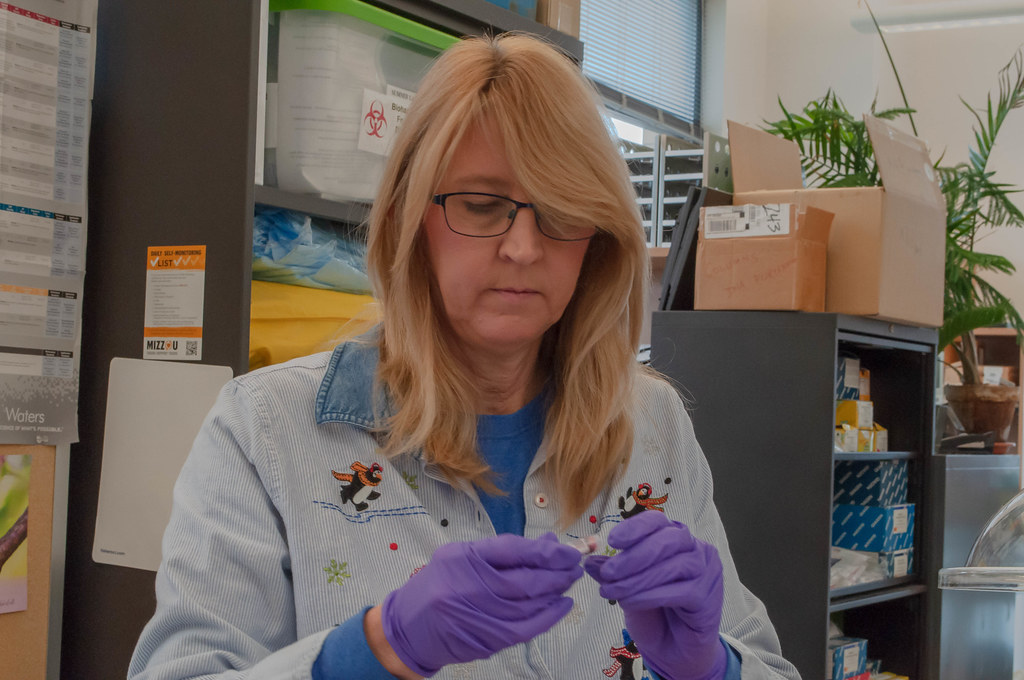 Barbara Sumner inspects a sample, part of her daily work in the University of Missouri Metabolomics Center.                                                  Photo by Sarah Kiefer | Bond LSC
Sumner's work deals with identifying metabolites, "small molecules" that are the pieces present in samples of plants and animals when cells break down foods, drugs, and chemicals. Plant tissue, blood samples, animal tissues, cell cultures, as well as samples from tumors are taken and then tested for all types of metabolites, in order to make analyzes. Recognizing and measuring the levels of the metabolites in a given sample is an important part of many research projects such as determining the function of a gene and observing the responses that the sample has to different types of stress. One example of an important metabolite to test for would be the glucose levels of a diabetic individual, which can contribute to further research experiments and treatments.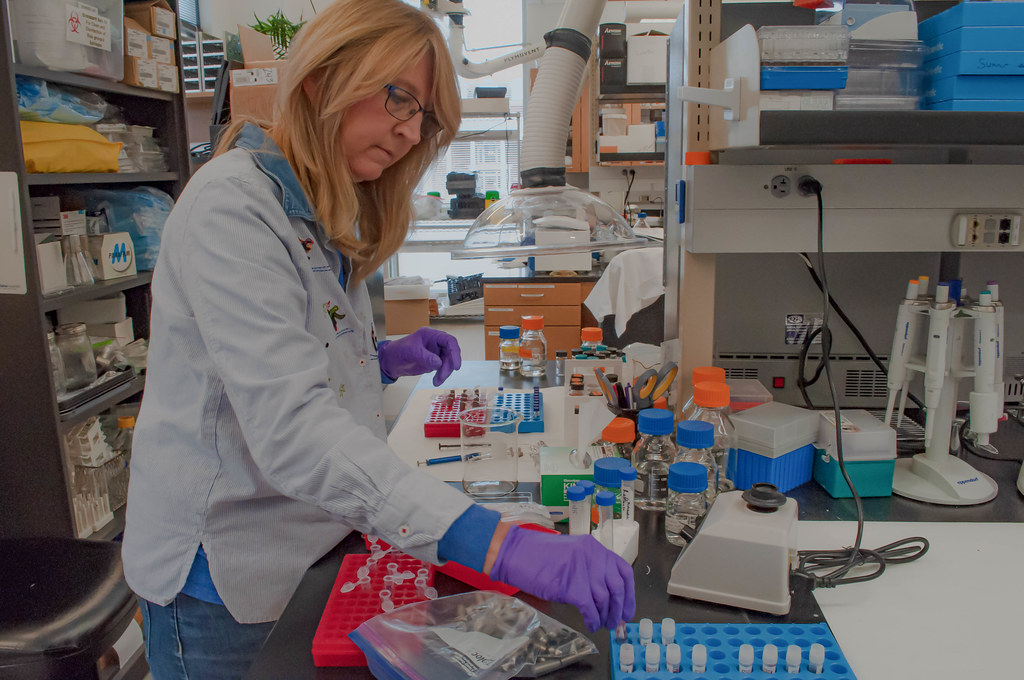 Sumner reaches to grab a test tube from the tray, to make further analyses on the sample. Photo by Sarah Kiefer | Bond LSC
Sumner looks at how changes can affect the metabolite levels, such as feeding a mouse a particular diet or a plant being put under stress because of a drought. These situations are measured in relation to their metabolite levels and compared to a control group to observe any changes.
Her work in mass spectrometry allows her to continue her interests in chemistry and molecular functions while still performing the hands-on work that she enjoys doing.
Sumner spends her time outside of her lab surrounded by a country landscape, populated with chickens and miniature horses that she and her husband own. It is here that Sumner finds herself emersed in projects galore, everything from replacing the water softener in her home to creating an underdeck drainage system for her backyard. Sumner finds herself cherishing every minute of these manual applications and keeping herself busy.
These projects apply to her work life as well, where she also helps fix instruments in the lab.
"I'm always doing projects and that's one of the things I love about this job is the mechanical aspect, that I get to troubleshoot and repair instruments, which I do at home as well."
Sumner's early success in school transformed into a lifelong love and drive for the work she does. Whether it entails brainstorming solutions to a problem or testing out theories for the issue at hand, Sumner applies her chemistry knowledge in various ways, making her skills transferrable in and outside of the lab. No matter the environment, Sumner finds herself using chemistry wherever she goes.
"I love everything about chemistry," Sumner said.