#IAmScience Adam Shoemaker
With each fresh streak of transformed E. coli cells growing in a Petri dish, Adam Shoemaker finds a bigger purpose in the lab work he is doing every day.
"I've always had the philosophy that I want to have the world be a better place when I'm gone because of my work, and anything I can do to contribute towards that is work that I'm interested in," Shoemaker said.
Missouri born and raised, Shoemaker is doing essential research that yields results with time and dedication. Although now working in the David Mendoza lab at Bond LSC studying plants, he once thought a career in biology was not for him.
It came as a surprise because Shoemaker once dreaded sitting down with organic chemistry problems and formulas or drawing molecular diagrams, but over time grew to love working with biological applications of plant molecular biology.
"I preferred spending time at the bench doing more wet lab work and occasionally going out into the field and working with plants directly," said Shoemaker.
Shoemaker's interest in nutrient uptake pathways and genetic editing of plants helped him decide to do this type of work because of how important it is to "build a network of understanding" between the nutrients iron and sulfur.
Plants have pathways of communication, too, and Shoemaker's goal is to understand the cross-talk that occurs between the two nutrients. Once this comprehension is gained, the research can start to lend itself to a broader real-world use through breeding practices.
Populations in Africa and India often struggle with anemia, which is caused through an iron-deficient diet, and largely affects children and pregnant women. An anemic individual does not have enough red blood cells, which results in low amounts of iron in the bloodstream. This disorder affects around 1.6 billion people worldwide, according to The World Health Organization. To address this condition, Shoemaker's research looks into one possible way to combat the problem: increasing the amount of iron that can be taken in and used by rice.
"One difficult aspect of this work is when things unexpectedly go wrong without understanding why, especially when they have worked in the past following the same steps," Shoemaker says.
"Figuring out how to problem solve and troubleshoot is one key skill that every scientist should work on developing and reading through current articles and the newest scientific methods or strategies to complete your research can be incorporated," said Shoemaker.
A long-term goal of his research is to allow the plant — in this instance rice — to utilize nutrients in a more efficient manner, and eventually provide a healthier grain for human and/or animal consumption.
"If we can figure out a way to make rice take up and use iron more effectively and make it more nutritious for people worldwide, that is one way we can combat a global issue," said Shoemaker.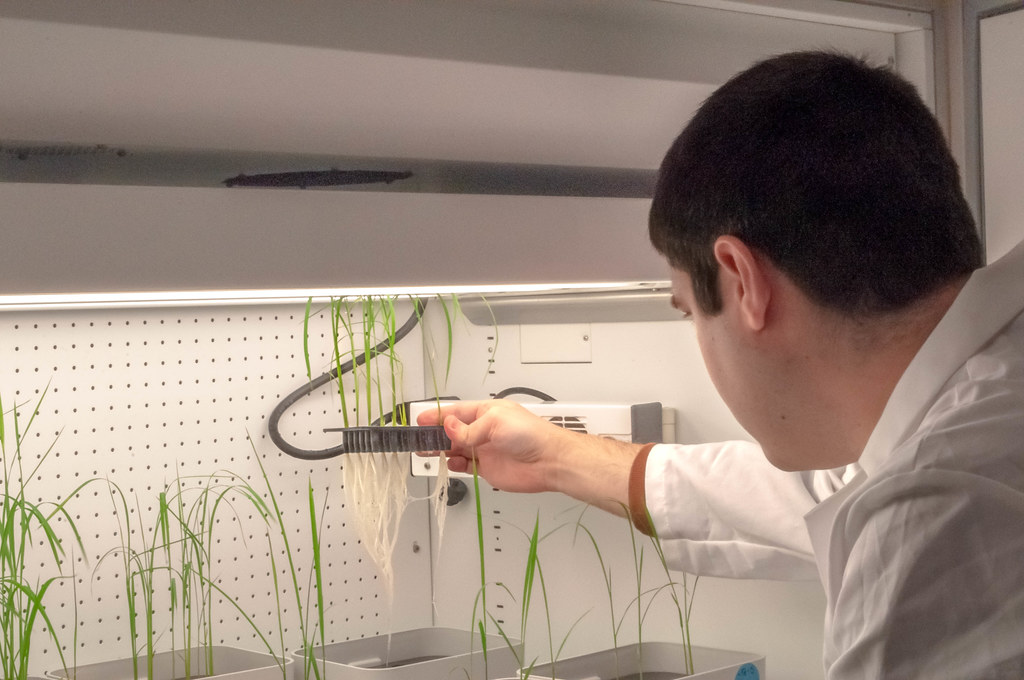 Shoemaker was ready to get out into the field and fuel his passion for science after two years at Mizzou and after another two years at Maryville University in Chesterfield, Missouri, earning his bachelors in biology and sustainability. His prior experience with corn and sorghum while earning his master's degree at Missouri State University and as a contractor at Bayer aids him in the work he does now with plant molecular biology in the Bond LSC.
The next step for Shoemaker is to get preliminary results for his research in order to apply for a USDA grant, start writing papers or manuscripts, and have his work published. He then plans to work in the plant biotech industry, on his own research projects and become the head of his own lab one day.
Outside of his lab work, Shoemaker likes to play tennis and try new recipes in the kitchen.  He often finds time after work to read a book or watch his favorite movie series, The Lord of the Rings trilogy.
"I have a soft spot for the movies because I like seeing the books come to life in a new and exciting way" Shoemaker said.
Much like the J.R.R. Tolkien stories where dreams are always encouraged and the notion that anyone can make a difference, Shoemaker actively works towards his life goal of leaving the world a better place than what he found it.