Fellowship Spotlight: Cynthia Tang
Fellowship Spotlight: Cynthia Tang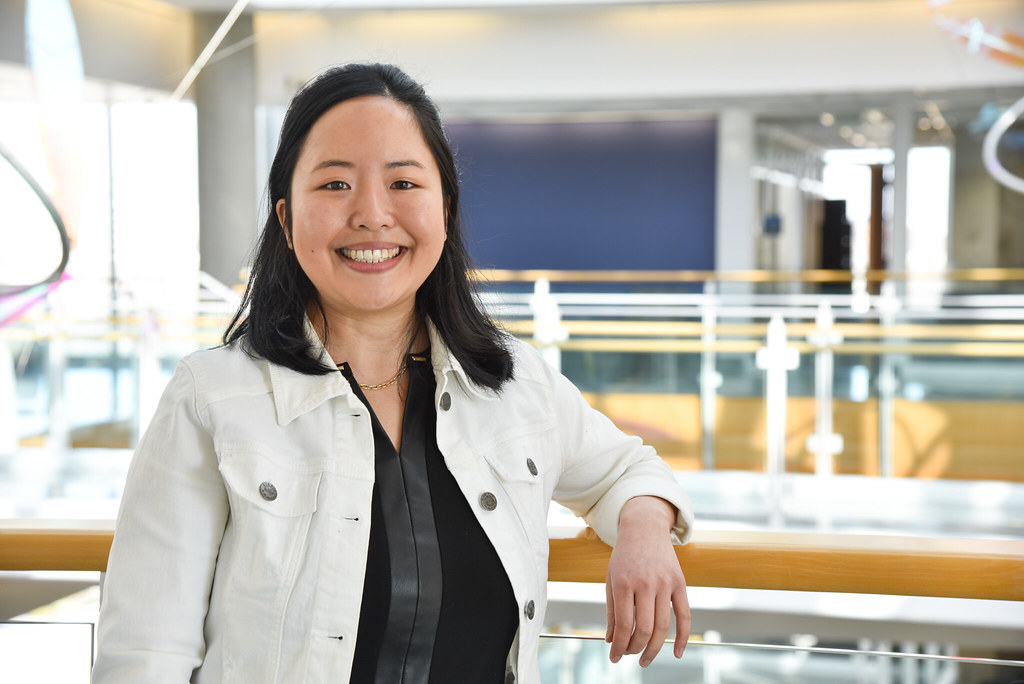 Research skills aren't built in a day, but Cynthia Tang's diligence brought those skills to bear as she recently received an NIH fellowship to further her budding career in science.
"Receiving the F30 fellowship means that the NIH sees value in my research proposal, in my training environment at the University of Missouri, and in my potential to become an independent physician-scientist," said Tang, who works in Henry Wan's lab at Bond LSC. ­
The F30 predoctoral fellowship supports the research of students pursuing M.D-Ph.Ds. These awards can help Tang and others pursue their passions in research by helping lighten the financial burden of a degree path that takes the better part of a decade.
Tang came to the University of Missouri in 2018, started her journey as an MD student then took a break to pursue her Ph. D. The dual M.D-Ph. D degree does not mean she's doing both at the same time. The first two years are pre-clinical years followed by a full-time Ph.D. for 3 to 5 years and then students finish up with clinical.
So, what was the project that captured NIH's attention? Tang  focused on how Covid-19 spreads and who gets it in rural areas. The aim is to identify people who have a higher chance of getting sick or being hospitalized so preventive measures can be offered earlier.
Lots of data must be gathered to accomplish this. Scientists look at the variants of the coronavirus, sequence the genome­ to give us a more detailed profile and compare how the genetic makeup evolves over time. They do this by taking nasopharyngeal swabs, the q tips that are commonly used for covid tests. ­­­­­­­­­ For patient data, they use electronic health records to see who is getting sick. Demographic information on age and location add to the clues researchers analyze.
Tang focuses on rural populations in the US, especially in Missouri, because there is a gap in data from those communities.
"Our biggest motivation for studying rural populations is so that we can better understand the way the virus changes and how to better serve those communities," she said.
Once those at highest risk are identified, scientists can prioritize prevention of disease earlier on. The process of planning for the grant itself enables researchers like Tang to finetune the quality of their work.
"I feel like it helped speed up the Ph. D. We had to break down the research study into all the little pieces of what needs to be done and what to do when things go wrong. Everything must be so well thought out to put the grant together."
After Tang's initial fellowship application was rejected, she took on the challenge of putting together a completely new study design in under two months for her second proposal.
"It was the best thing that ever happened" Tang said, smiling. "I am extremely grateful to Dr.Wan and my thesis committee."
The fellowship has brought Tang overseas. She has had the opportunity to present her findings at international conferences, connecting Bond LSC with the broader science community. Last year she was in Belfast, Ireland and this month she will be in Valencia.
Where is Tang now? She's working remotely as she wraps up her Ph. D and will be graduating from Mizzou this upcoming December.  Once she's secured that Ph.D degree, she will be heading out to UNC chapel hill to finish up her clinical training in January next year. After that, she'll be in the homestretch of her dual degree journey, finishing up her M.D in May of 2026.
Cynthia Tang currently serves as the President-Elect of the national American Physician Scientists Association and will continue in this role next Spring.
Tang was the first author in the NIH publication: A cross-sectional study in central Missouri during the 2021-2022 influenza season. It was published in the Journal of Virology in 2022.  Here is a citation link to the article below. 
Tang CY, Boftsi M, Staudt L, McElroy JA, Li T, Duong S, Ohler A, Ritter D, Hammer R, Hang J, Wan XF. SARS-CoV-2 and influenza co-infection: A cross-sectional study in central Missouri during the 2021-2022 influenza season. Virology. 2022 Nov;576:105-110. doi: 10.1016/j.virol.2022.09.009. Epub 2022 Sep 30. PMID: 36206606; PMCID: PMC9523501