Framing Your Future
Career Conference for Graduate Students & Postdoctoral Fellows
PRE-REGISTRATION IS ENCOURAGED & ASSISTS WITH CONFERENCE PLANNING. THANK YOU!
Timeline
Tuesday, April 10
Schedule
2:00 p.m. – 2:45 p.m.
Understanding Imposter Syndrome
Monsanto Auditorium
Join us as we explore this psychological phenomenon. Two American psychologists, Pauline Clance and Suzanne Imes, gave it a name in 1978: Impostor Syndrome. They described it as a feeling of "phoniness in people who believe that they are not intelligent, capable or creative despite evidence of high achievement." While these people "are highly motivated to achieve," they also "live in fear of being 'found out' or exposed as frauds." (New York Times, 10/26/15).
This session will discuss:
The relationship of Unconscious Bias to Imposter Syndrome
The reality of Imposter Syndrome, what it means, and an interactive exploration
The impact of Imposter Syndrome on grad student success in academia
Where you stand with Imposter Syndrome
How to deal with Imposter Syndrome, action steps
Presenter:
Tojan Rahhal Ph.D., MU College of Engineering Director of Diversity and Outreach Initiatives, Adjunct Asst. Professor, Bioengineering
 
3:00 p.m. – 3:45 p.m.
Working: Mizzou Alumni in Industry, Non-Profits, Consulting, and Teaching Institutions
Monsanto Auditorium
MU alumni share their career journey. Come prepared for this question-driven discussion.
Moderator:
Kathy McFarland, MU Ph.D. (1976), Chemistry
Chairman of the Board of Directors at Reading Power, Inc.
Vice President and Director, Abbott (retired)
Panel:
Laura Schoenlaub Buttrum, Ph.D. (2016), Molecular Pathogenesis & Therapeutics
Postdoctoral Research Associate, St. Jude Children's Research Hospital
Chad Cooley, Ph.D. (2014), Chemistry
Assistant Professor, Avila University
Kerry Goyette, MSW (1995)
President, Aperio Consulting Group
Denzil Roberts, Ph.D. (2011), Electrical & Computer Engineering
Solutions Engineer, Internet of Things Group, Industrial and Energy Division at Intel Corporation
Renee Roberts, Ph.D. (2011), Molecular Pathogenesis & Therapeutics
Product Marketing Engineer, Intel Corporation
4:00 p.m. – 4:45 p.m.
Financial Planning Starts Now!
Monsanto Auditorium
A brief look into the multi-faceted world of financial planning with a focus on the topics most relevant to graduate students and their finances. Learn not only the importance of being financially aware and intentional, but also habits, strategies, and resources to simplify the process of planning for your financial future.
Presenter:
Marco Pantoja, BS (MU 2016), Financial Counseling
Accredited Financial Counselor (AFC©)
Assistant Director, MU Office for Financial Success, College of Human Environmental Sciences
4:45 p.m. – 6:30 p.m.
Mizzou Resources and Networking Career Fair & Reception
McQuinn Atrium
Featuring companies, potential employers and MU resource offices with information relevant to graduate students and postdoctoral fellows.
Organized by ACES – Alternative Career Exploration in the Sciences – Mizzou graduate student & postdoctoral fellow organization
PRE-REGISTRATION IS ENCOURAGED & ASSISTS WITH CONFERENCE PLANNING. THANK YOU!
Connect with Us:
For more information, please contact Debbie Allen at gradlifesci@missouri.edu.

Presenter Bios:
Tojan B. Rahhal
Tojan Rahhal works as director of diversity and outreach initiatives at the College of Engineering at the University of Missouri. She graduated from North Carolina State University with a bachelor's degree in biomedical engineering and went on to pursue a doctorate degree in pharmaceutical sciences at the University of North Carolina at Chapel Hill. Outside of her research efforts, Dr. Rahhal has demonstrated a commitment to service and leadership in the academic community, promoting awareness of issues regarding equality in science. Dr. Rahhal currently owns Alliance Professional Development (www.Alliance-Professional.com), where she works on providing customized workshops that focus on leadership, soft skills, and cultural awareness for companies and organizations. At MU, she focuses on facilitating outreach, recruitment, retention, and overall success for all members of the campus community, especially those from backgrounds traditionally underrepresented in engineering.
Kathryn Nattier McFarland, Ph.D.
Dr. McFarland earned Masters and Ph.D. degrees from the University of Missouri in Physical Organic Chemistry.    After graduation she completed post-doctoral studies at the University of Wisconsin-Milwaukee.
Dr. McFarland joined Aldrich Chemical Company in 1977 and specialized in the area of manufacture of deuterated solvents. She moved to Abbott in 1980. Her career started as a bench chemist in Analytical Research where she advanced to manager. In 1990 she moved to Chemical Development and advanced to Divisional Vice President with responsibility for the development of the active ingredients for Abbott's drug pipeline. She managed the chemists and engineers who developed the drug synthesis process including start up in manufacturing. She was involved in the development of more than 30 new drugs including the first in class HIV products. In 1998 she led the reformulation and manufacturing changes to manage the new crystal form of the HIV drug Ritonavir while keeping the drug available to the patients whose lives depended on it. In 2000 she became Program Manager for Synthroid and led the initiative to meet new FDA requirements and keep this essential thyroid drug available. In 2004 she joined the dyslipidemia program and was responsible for the clinical development plan and several new drug products to meet this growing medical need. She was then appointed to lead the Life Cycle Management office and develop life cycle strategies for the Abbott pharmaceutical pipeline. She provided leadership to several Abbott initiatives to reengineer and stream line the drug development process. She was awarded two Chairman Awards, the highest honor Abbott provides to employees, for her work on Synthroid and dyslipidemia.
During her tenure at Abbott Dr. McFarland was very involved in the woman's leadership initiatives and served as Executive Vice President of Women Leaders in Action (WLA). In her role she helped pilot and implement the Abbott corporate mentoring program while personally serving as a mentor to many protégés. She helped establish the Women in Science chapter of the WLA.
Dr. McFarland retired from Abbott in 2010. In retirement she has been active in small business and volunteer work. She served on and chaired the Arts and Science Development Board at the University of Missouri from 2004-2008 and was a member of a Mizzou Alumni Women Development Circle from 2012-2016. She established the McFarland Graduate and Faculty Development Endowment in Science to help advance leadership skills in women graduate students and faculty. She received the Arts and Science Distinguished Alumni Award and the Faculty Alumni Award from the University of Missouri in 2002.   While volunteering as a Reading Power tutor 2011, she saw firsthand the value and quality of the program, joined the Board in 2013, and became Chairman and CEO in 2014. Reading Power is a literacy tutoring organization serving students in underserved districts that cannot provide literacy interventions. The program is research based, led by ten educational professionals, and powered by 200 trained volunteer tutors. Reading Power has given the gift of literacy to over 2500 prekindergarten to second grade students since 2003.
Laura Buttrum
Laura Buttrum did her doctoral research in the laboratory of Dr. Guoquan Zhang studying host-pathogen interaction during Coxiella burnetii infection. She graduated from Mizzou in 2016. Dr. Buttrum now works as a postdoc in the lab of Dr. Jason Rosch at St. Jude Children's Research Hospital in Memphis, TN. Her current work is focused on small RNA mediated post-translational gene regulation in pneumococcus. She discovered a novel antibody developed from a protein in Streptococcus pneumoniae that effectively increases the potency of antibiotic treatment against both pneumococcus and some strains of enterococcus. This antibody is effective both in vitro and in vivo in mouse models.
Dr. Buttrum currently lives in Memphis with her husband and young daughter. Working at St. Jude  has given her a lot of flexibility in her schedule. She reports that the organization promotes work-life balance, giving breaks during the day and time off.  This has been important for the Buttrum family as their daughter has spina bifida, which requires considerable time in doctor's offices, physical therapy, and hospital admissions. Dr. Buttrum says St. Jude is really family-oriented, and they are great if you have a family or are considering starting one soon.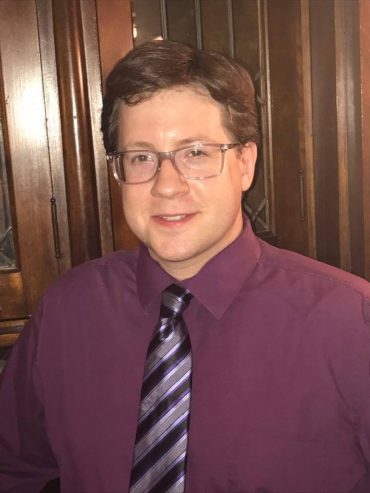 Chad Cooley
Chad Cooley earned his Ph.D. in Chemistry at Mizzou performing research in the synthesis of fluorescent molecular sensors for detecting lipids, under the direction of Dr. Timothy Glass.
Dr. Cooley taught as a Visiting Lecturer at Indiana University-Bloomington from 2014 – 2017, with typical class sizes of 200 to 400 students. He currently is a tenure-track Assistant Professor at Avila University in Kansas City, with class sizes of 10 to 25 students.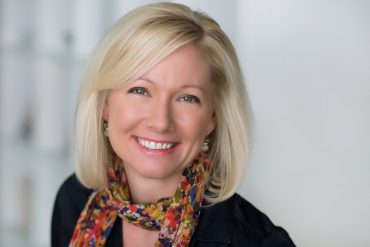 Kerry Goyette
Kerry Goyette is the President of Aperio Consulting Group, a corporate consulting firm that utilizes workplace analytics and implements research-based strategies to build high performance cultures. She is a Certified Professional Behavior Analyst and Certified Forensic Interviewer with postgraduate studies in psychometrics and neuroscience.
Ms. Goyette is an international speaker. Her repertoire includes the popular TED talk, "Stop Trying to Motivate Your Employees." She has consulted clients across the world such as Shell Oil, Houston Texans, U.S. Securities and Exchange Commission and many others on scientific strategies to optimize performance.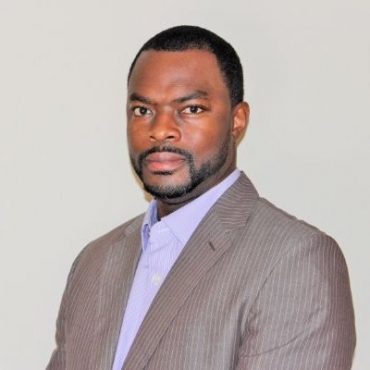 Denzil Roberts
Denzil Roberts is a Solutions Architect leading and developing Internet of Things End2End solutions within the Industrial sector at Intel. He is a Ph.D. graduate from the University of Missouri-Columbia in Electrical and Computer Engineering where he conducted various semiconductor related research under the advisement of Dr. Gregory Triplett. While at Mizzou he was involved in various activities throughout his tenure, beside research he was a Teaching Fellow, served on Graduate Student Association, Nexus Graduate Association and other graduate activities as well as community related involvement.
Currently, Dr. Roberts resides in Portland, Oregon with his wife Renee Roberts, two kids, and two dogs. He's involved in various activities at Intel and the community at large. In his spare time, he loves cars, tech, the financial world, and working out at Orange Theory.
Renee Roberts
Renee Roberts is a product marketing engineer and program manager focusing on blockchain solutions technologies at Intel. She is a Ph.D. graduate from the University of Missouri-Columbia in Microbiology/Immunology and Veterinary Pathobiology Program where she conducted malaria research in Dr. Brenda Beernsten lab and was a leader for Nexus Graduate Association and many other graduate campus organizations.
Currently, Dr. Roberts resides in Portland, Oregon with her husband, Mizzou graduate Denzil Roberts, Ph.D., two kids, and two dogs. She continues to volunteer her time mentoring and empowering students to pursue STEM career role and is an avid supporter of health and wellness.  In her spare time, she loves to write and exercise (especially Zumba!)

Marco Pantoja
Marco Pantoja graduated from the Mizzou's College of Human Environmental Sciences' Personal Financial Planning department in 2015 with a bachelor's degree in Financial Counseling.  Upon graduation, he was accepted into the graduate program for Financial Planning and took over the responsibilities of running the Personal Financial Planning department's Office for Financial Success, a student money management center.  After his expected graduation this year, Mr. Pantoja will seek to attain the Certified Financial Planner accreditation and pursue career opportunities helping military families improve their financial well-being.