Grab a cup of coffee and join us for Saturday Morning Science
Saturday Morning Science is a series of one-hour long talks on various scientific topics. No science background is required, only enthusiasm for and an interest in science. The talks are free and open to the public. If you want to know a bit more about science or if you are simply curious, come join us on Saturday morning.
Coming Up Next
April 22
Michael Harmata
Rabjohn Distinguished Professor, Chemistry
University of Missouri
Mirror, Mirror on the Wall, Who's the Fairest One of All; or Chirality in Molecular Science
Every molecule has a mirror image. If a molecule can't be superimposed exactly on its mirror image, we say it is chiral. Often only one of these two forms of a molecule occurs naturally. Why Nature picked one mirror image and not the other is still not known, but the form affects how a molecule fits to others, and therefore how it functions. Learn how to think about molecules as three-dimensional and chiral beasts.
April 29
Angela Speck
Director, Astronomy Professor, Astrophysics University of Missouri
The Eclipse of a Generation: Don't Get Left Out of the Dark
On August 21 this year there will be a total solar eclipse visible from a large swath of the U.S., and Columbia will have a front row seat. This is the first total solar eclipse to be seen from Missouri since 1869; the first over CoMo since 1442! Dr. Angela Speck, professor of astrophysics and director of astronomy at MU, will explain why solar eclipses happen and how to observe them safely.
When and Where
Saturdays at 10:30 a.m.
Monsanto Auditorium
Bond Life Sciences Center
Free weekend parking is available in University Avenue Parking Structure, Virginia Avenue Parking Structure and the Virginia Avenue Garage Surface Lot. For directions to the Bond Life Sciences Center, visit: bit.ly/LSCParking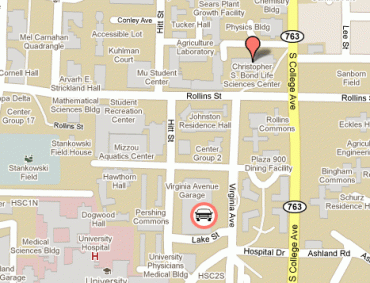 Additional map and driving directions.
For ADA accommodations, contact Mary Shenk, Director, Life Sciences and Society Program: 573-882-0562 or shenkm@missouri.edu.